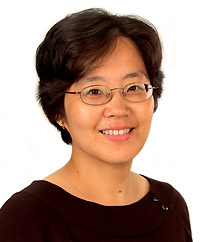 Dr. Wenjing Zheng
Assistant Professor
Office: Memorial 210F
Email: wenjing.zheng@minotstateu.edu
Phone: 701-858-4605

Wenjing Zheng, Ph.D, is an Assistant Professor at Minot State University in the Department of Special Education. Her areas of specialization include mild to moderate intervention, inclusive practices, and augmentative and alternative communication. The concentration of her master's degree in special education is instructional strategies for students with learning disabilities and communication disorders. Her doctoral dissertation focuses on online guided self-reflection with special education paraprofessionals. 
She teaches courses in learning disabilities, assessment, assistive technology, and introduction to special education. Her research interests include the impact of teachers' instructional language on students' learning, online instruction, identifying evidence-based practice, and children's perception of graphic symbols. 
She is a graduate from Indiana Partners in Policymaking program, and has organized community events on Disability Awareness and Art Accessibility. She has professional affiliations with the Council for Exceptional Children (CEC), and American Council for the Blind (ACB). She moved to the U.S. from China in 2010. She and her husband have one daughter. They enjoy cooking and making a mess together.