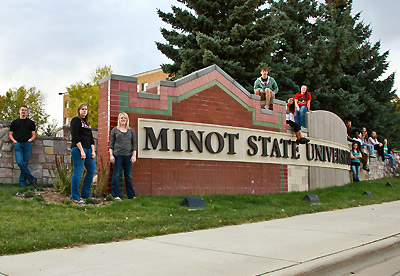 Welcome
Minot State University values an environment and culture allowing each student to fully realize their academic potential. The University seeks an environment that promotes academic achievement and integrity, that is protective of free inquiry, and that serves the educational mission of the University.
The office of Student Affairs is committed to advocating for and connecting our students to meaningful and engaging social and learning opportunities. The Student Affairs Team is centered around serving you, the student, and our teammates around us. Our team includes residence life, university policies and procedures pertaining to students, student health and counseling, student government and activities, international programs, Native American cultural services, veterans' services, parent programming, behavior intervention, dining services, and wellness. Questions should be directed to the Vice President for Student Affairs on the third floor of the Administration Building or the specific office providing the service.
Contact Information
Kevin Harmon, VP for Student Affairs/Dean of Students
Administration Building, Room 365
Minot State University
500 University Avenue West
Minot ND 58707

Phone: (701) 858-3299
Toll free: (800) 777-0750, ext. 3299
Fax: (701) 858-3688
E-mail: kevin.harmon@minotstateu.edu
Office hours: Monday - Friday, 8:00 a.m. to 4:30 p.m.