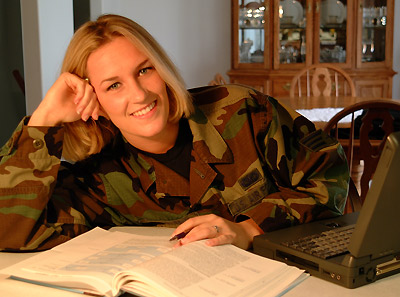 Community College of the Air Force (CCAF)
Why should you consider a degree or certificate with MSU Online?
You can complete your Community College of the Air Force (CCAF) Associate of Applied Science degree with MSU. With your CCAF associate's degree in hand, you can move on to complete a Bachelor of Applied Science in Applied Business Information Technology or a Bachelors of General Studies regardless of your location.
Our streamlined BAS program consists of 60 semester hours in a focused area of study.
3 to 9 semester hours of your degree plan is devoted to an arranged on-the-job Internship.
General Education requirements not completed with the CCAF can also be completed online through the General Education Mobile (GEM) program.
Our Bachelor of Applied Science degrees interfaces with the Community College of the Air Force Applied Science degrees. You can view CCAF academic requirements on the Air University Catalog web site.
Your 100% Tuition Plan permits you to participate full time throughout the academic year:

12 semester hours fall
12 semester hours spring
6 semester hours summer

Your Physical/Wellness general ed requirement is met by the completion of Basic Training.
If you are stationed at Minot Air Force Base, we also offer a wide variety of classes at the Base Education Center.
Check other institutions and you'll find that MSU Online has affordable and convenient programs.

No out of state fees
No hidden charges or fees
Financial Aid is available to qualifying students
Contact Jolina, the Online Program Coordinator, at 858-3218 or e-mail us at: online@minotstateu.edu for more information.