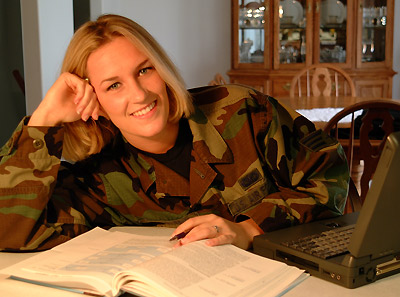 Community College of the Air Force (CCAF)
Why should you consider a degree or certificate with Minot State Online?
Minot State offers a variety of courses to help you complete your Community College of the Air Force (CCAF) Associate of Applied Science degree.
The application fee is waived for active duty military students.
CCAF students can apply as a non-degree seeking student and take up to 24 semester hours before transitioning to a degree seeking student.
You can complete General Education requirements through our General Education Mobile (GEM) program.
Your 100% Tuition Plan permits you to participate full time throughout the academic year:

12 semester hours fall
12 semester hours spring
6 semester hours summer

If you are stationed at Minot Air Force Base, we have an office in the Base Education Center and Brigitte Mikula is happy to answer your questions.
All courses required to complete the CCAF General Education requirement are also available face to face on the Minot Air Force Base.
Check other institutions and you'll find that Minot State Online has affordable and convenient programs.

No out of state fees
No hidden charges or fees
Financial Aid is available to qualifying students
PRIOR TO ENROLLMENT, ELIGIBLE SERVICE MEMBERS MUST RECEIVE APPROVAL FROM THEIR ESO, MILITARY COUNSELOR OR MILITARY SERVICE. 
Once you have completed your CCAF degree, you can move on to one of our five AU-ABC programs. These programs are available entirely online and are specifically designed for CCAF students. Programs are available in the following areas:
Category I
Bachelor of Applied Science in Applied Business Information Technology
Bachelor of General Studies
Bachelor of Science in Criminal Justice
Bachelor of Science in Human Services with a major in Intellectual and Developmental Disabilities
Category II
Bachelor of Science in Management
The Military Resource Center is your point of contact for Department of Defense (DoD) and United States Department of Veterans Affairs (VA) educational benefits.
Military Resource Center - all service branches
Andy Heitkamp (701) 858-4003 or MRC@minotstateu.edu
MAFB - US Air Force active duty
Brigitte Mikula (701) 727-9044 or MAFBcord@minotstateu.edu
GEM and AU-ABC - US Air Force active duty
Jolina Miller (701) 858-3218 or online@minotstateu.edu