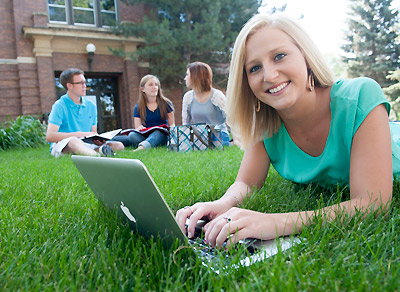 Non-Degree Seeking Student Information
Students who want to enroll in courses but do not plan to seek a degree may enroll as undergraduate non-degree students. Non-degree students are not eligible for financial aid and may not take more than 12 credits. Enrollment beyond 12 credits will be contingent upon completion of all admission requirements for new freshman or transfer students.
Application Process:
Online admission application - On the questions about Major/Program and Degree/Plan, indicate Non-Degree

$35 Application fee can be paid online while completing the online admission application or mail a check to:

Minot State University
Enrollment Services
500 University Avenue West
Minot, ND 58707

Non-Degree Seeking Form - If you indicated Non-Degree as your Major/Program and Degree/Plan, this form is available while completing the admission application.
Student Health Records:
Students who plan to take on campus courses now or in the future are required to provide immunization records. Information on the requirements and links to submit documentation can be found on the Immunization Requirements page.
Students who plan to enroll in online courses only and do not plan to attend classes on the Minot State campus can request an exemption by submitting the required form on the Immunization Requirements page.
No student will be permitted to enroll in a subsequent term until immunization or documentation of a waiver is complete.
Acceptance and Registration:
You will receive information from the Enrollment Services Office concerning your acceptance to MSU. If you have questions about the non-degree admission process, please contact the Enrollment Services Office at 701-858-3350 or 1-800-777-0750, extension 3350 or email askmsu@minotstateu.edu.
After you have been accepted, you need to complete the following steps: