Office of International Programs
Jordon, Telemark, Norway, Spring 2012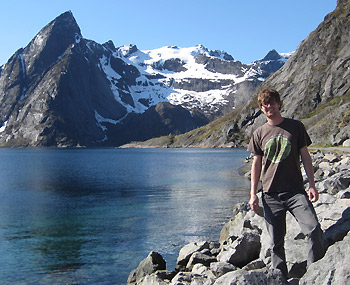 Minot State University senior, Jordon Lakoduk traveled to MSU's partner institution in Norway at Telemark University College to study abroad at the Bø campus during the spring of 2012. As a double major in marketing and management information systems,  he found his experience abroad to be both academically stimulating and personally rewarding.
Rather than stick to solely business courses while he was abroad, Jordan decided to also enroll in courses covering Norwegian history and Norwegian language as well as some fun electives like Skiing, Hiking and Tourism in the Environment. His tourism class proved to be especially interesting, as it discussed how countries can work to make tourism more environmentally friendly. One example of this "green" philosophy he learned was researching ways to reduce emissions from cruise ships that sail along fjords. Jordon also studied virtual tourism, an innovative concept which allows people to access virtual tours online instead of travelling to the actual country themselves. If virtual tourism becomes popular, the environment would be impacted less from travel and tourists could save time and money.
In Bø, Jordon was quickly immersed in the Norwegian way of life. He embraced the culture, which celebrates the outdoors and is characterized as friluftsliv-- loosely translated to mean "open air life". Norwegians, he learned, are encouraged from a very young age to spend time significant amounts of time in nature. An example of fruluftsliv can be seen as early as kindergarten, where ice slides are built and playgrounds extend into the woods. As adults, this means incorporating outdoor sports into everyday life. Nearly everyone enjoys hiking and skiing, going to the lake or exploring the countryside. Living in Norway, as you can well imagine, deeply affected Jordan in a positive way. "I became a lot more interested in my surroundings," he explained. "Even though North Dakota is not the most mountainous area, [I learned that] there are nearby places that you can explore." Clearly, for those who love the outdoors, Norway is a great place to be!
Learn more about MSU's Exchange Program to Telemark, Norway!