Office of International Programs
Jennifer, Peru, Summer 2012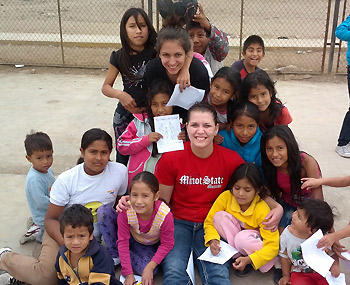 Jennifer spent her summer break a little differently than most students when she decided to go abroad in the South American country of Peru for five weeks. As a chemistry major minoring in Spanish, Jennifer believes that there is no better way to learn a language than to directly immerse oneself alongside native speakers. When she heard that Kemerly Moorhouse, Peru native and an adjunct Spanish instructor at MSU would be leading the Peruvian Culture and Language Immersion study tour for the fourth consecutive summer, Jennifer knew immediately that she wanted to take part.
The program took students to Lima, Cusco, Machu Picchu, and the Nazca lines, among other famous destinations in Peru. But the experience that impacted Jennifer the most? The volunteer work. Over 50% of the Peruvian population lives in poverty, and the students on this program had the opportunity to witness this reality through two different experiences.
First, the Spanish language students worked side-by-side with a group of Catholic school children who would frequently spend their Saturdays in Callao, a low-income seaport town near Lima. During their visits, the students from the Catholic school simply play games with the area children and bring food for them to share. While on this excursion, a mother from the area offered to give the group a tour of her home. The home was a dirt-floored, one bedroom house where a family of four lived together. The mother of the home explained to Jennifer that she would often spend only 10 soles (approximately $3 USD) for food each week. This experience helped Jennifer realize very quickly just how lucky she is for even the simple things in life: the comforts of her home in the U.S., the opportunity to go to school, and even the ability to own a car as a university student.
The second volunteer opportunity took place in the city of Puno, where the group spent time working in an orphanage. Here, Jennifer met a six-year-old girl who made quite an impact on her life. Despite the cold weather in Puno, this child could only afford a sweater and had no gloves or scarves. Her father and brother had died, and her mother could not afford to take care of her, so she stayed in the orphanage.  "It makes you value what you have in the (United) States with your family," Jennifer said, reflecting on this experience. "[These children] had no one but the sisters to take care of them."
Studying abroad gave Jennifer a first-hand look at how living conditions can differ around the world, and made a lasting impression on her life. 
Want to study abroad AND serve the local community like Jennifer? Check out International Study Abroad's service learning opporunities.