Office of International Programs
Danielle, Ireland, Fall 2012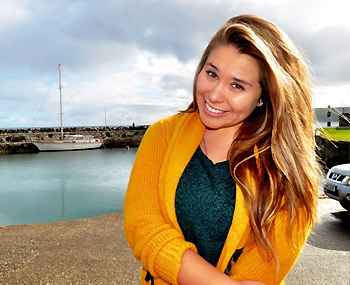 Danielle, a criminal justice major at the Bismarck State College satellite campus recently spent a semester at the National University of Ireland (NUI) in the city of Galway. The program is offered through International Studies Abroad (ISA), a Minot State University study abroad affiliated provider. According to Danielle, the experience was terrific and of great importance to her studies and personal goals.
The program offered classes Danielle needed in order to complete her minor in international business. She selected classes such as Management, Marketing Principles, Irish Gaelic for Beginners, Imagining Modern Ireland: An Introduction to Irish Culture Studies and Castles, Colonists, and Crannogs. The study abroad program at NUI Galway offers a wide array of courses across many fields of study to choose from including business, geography, history, English, mathematics, philosophy, psychology, sociological and political studies, a number of language programs, and of course, Irish studies. For Danielle, the classes were sharply contrasted to those typically offered at colleges in the United States. There were no attendance policies, creating a need for greater self-motivation. There were also few daily assignments, with more emphasis put on the final exam.
In addition to continuing her studies while abroad, Danielle was able to connect with locals on a more intimate level. Her host community was very welcoming and full of friendly people. There were a number of academic and social clubs (called societies in Ireland) that she was able to join, such as the Harry Potter Society and the Horse Racing Society, as well as Business and German language societies which were more closely related to her studies.  Danielle speaks a little Gaelic (Irish language), and was happy to get to practice it throughout the country.
A benefit of studying on the European continent is that Danielle had ample opportunity to visit many nearby countries. Each weekend she made a point to travel to cities like Paris, Rome, London and Edinburgh. Her classes required a lot more independent reading than is typical in the United States, and she was able to complete her assignments on the planes and trains while travelling.
Danielle encourages every student to look into the opportunity to study abroad. "I recommend studying abroad for many reasons: it makes you a better job candidate for future jobs, gives you different perspectives on the world, and helps you learn more about yourself and new cultures. I feel that international travel is eye-opening, challenging and enriching."
Learn more about the study abroad program options through International Studies Abroad.