Office of International Programs
Piper, Switzerland, Spring 2011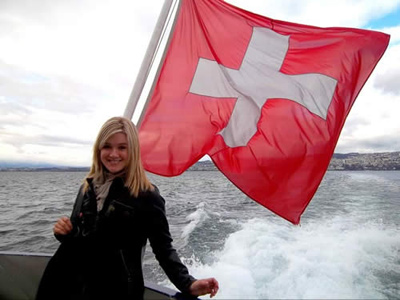 What was your motivation to travel abroad?
I've always wanted to travel abroad and that was one of the reasons that I came to Minot State. I had been planning to study abroad since I was in junior high and the Office of International Programs worked with me personally so I knew what opportunities were available. 
What are some things you're glad you brought home and some things you wished you would have left?
I packed light--only the basics of what I thought I would need. I wish I would have brought some things to read in English because when I got off the plane and saw that there was nothing in English I got really homesick. My parents sent me a package with some American magazines that I could read, along with a newspaper of the Minot Daily News. That really helped. 
What were your experiences with culture shock? How did you deal with it?
When I first got to Lausanne and everything was in French I felt really isolated. When I went to orientation I made myself sit down with some of the other students and it was pure silence in the beginning. Then I said something and we all realized that we were from English speaking countries and we began to talk, laugh and tell stories. One of the stories I shared was how we all had cried the first two days and how jet-legged we were. To deal with the culture shock I didn't want to sit in my apartment and not do anything.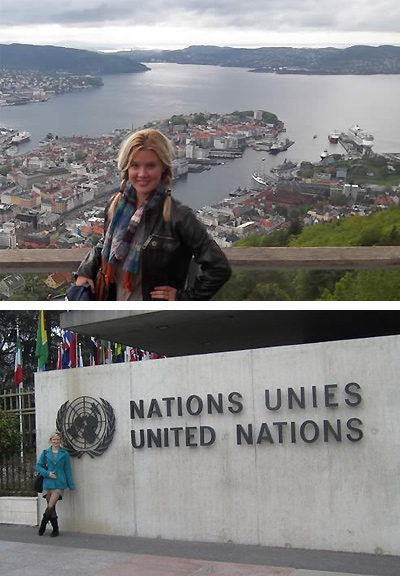 What was your biggest adjustment?
Learning the language.  I knew the basics of French but being thrown into the language was hard. Also, coming from such a warm and friendly state, it was hard when I was in Switzerland. You can pick out the foreigners because they were the ones smiling.
What was the biggest surprise that you noticed when coming back home?
My first shock was being back in an all-English speaking country. It was different hearing that for the first time being home. I find myself wanting to speak French more, just because it is easier and quicker for me.
How have you shared your experience with others?
I had a blog that documented all of my experiences and it was nice to think that my friends and family that I hadn't talked to much could read that and know I wasn't lost out there and that I was doing something fun.
Any advice that you would give?
Right off the bat, being away is going to be hard, but don't stay in your apartment. Get out as much as possible, talk with others and share experiences!