Office of International Programs
Kayla, United Kingdom, Spring 2011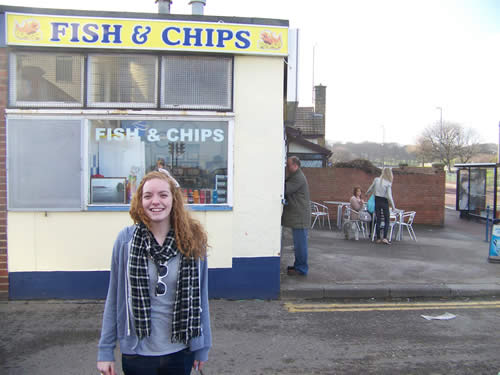 What was your motivation to travel abroad?
I have always wanted to go somewhere else. In high school I went to Europe on a school trip and it opened my eyes to something new. I wanted to experience living in a completely different area and I wanted to see what it was like on the other side of the world.

What are some things you're glad you brought home with you and some things you wished you would have left?
I didn't really know what the weather was going to be like so I packed light. I brought safety pins which were used often when going out. I brought a pack of red Solo cups, something that you can't buy in the U.K. and it is something that lots of the people I met associated with the U.S. I also brought some photo albums of my friends and family, my computer, and my camera with some extra batteries.
What were your experiences with culture shock? How did you deal with it?
The biggest thing was transportation. Only a few of my friends had cars so I ended up walking and taking the train and getting to know the metro system. It was hard to shop for foods and brands that I liked back in Minot, but I would say I adjusted pretty well and learned to be out there on my own.
How did you keep in touch with your family and friends back in the US?
Facebook was convenient, but I also used postcards and letters. I loved getting a piece of paper in the mail, it was comforting to have the letter in your hands. Also with Skype, it was not hard at all to keep in contact with people back home and now with people in England now that I'm back in Minot. 
What was the biggest surprise that you noticed about our country when you came home?
The Minot flooding was a big change. I am learning to not be in an orderly environment where there aren't queues to be in. I also realized that people here are calmer about certain situations.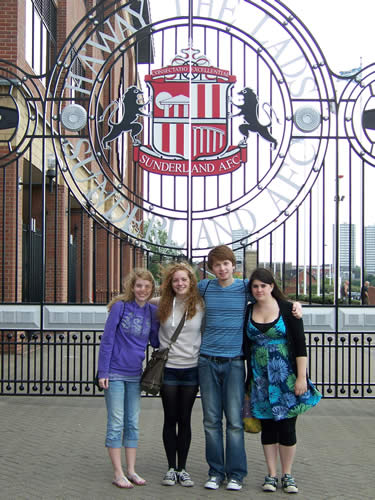 How did you share your experiences when you came home?
I show everyone my pictures and I also brought back my favorite chocolate and some of the foods from England that I loved. The little things that I brought back have a story, it is a lot easier to tell people a story when you have something to show them.
Was it worth it?
Absolutely, I am already starting to plan a trip back and some of my friends. We talked about having a reunion in the U.S. in a few years.  I don't regret it at all, the experience was just indescribable.    
Do you have any advice for future students.
You won't regret it! it will take work to get there and at first it will be overwhelming but everyone else there is in the same boat. if you ask someone will help, I feel more independent now. If you've ever thought about studying abroad, just do it.