Office of International Programs
Kelsey and Rachel, Spain, Summer 2011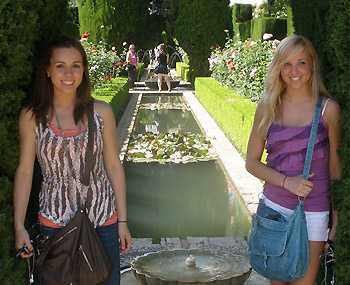 Minot natives Kelsey and Rachel spent 5 weeks during mid-summer in Granada, Spain through an International Studies Abroad (ISA) intensive language and culture program. It was an immediate immersion for Kelsey and Rachel with placement exams for their courses waiting upon arrival. The girls each took two courses during the program that were determined by their individual language skill level (intermediate, advanced, or superior). One course focused on Spanish culture and the other on Spanish language and grammar.

Even with challenging classwork facing them each day, the two students were able to find time to join some of the many local and regional excursions organized by ISA to places such as Cordoba, Nerja beach, Alhambra, flamenco dance shows, and trips to the cities of Madrid, Toledo, and Sevilla.

Culture and language learning continued outside of the classroom too, as they chose to live with a host family rather than in university housing. In fact, they were placed by ISA with a host mother who could only speak one word of English. Once during a conversation with her, the students were amazed to learn that there are at least four different words for 'soup' in Spain. The two shared a room, while two other foreign exchange students stayed in another room down the hall. Kelsey and Rachel both said that it was marvelous to live with a local from Granada; someone who was able to teach them much more about the Spanish language and culture, as well as someone with whom they could build a personal relationship.

Kelsey and Rachel believe that their study abroad experience in Spain will positively impact their futures, especially while they both continue to study the Spanish language at MSU. 
Learn more about study abroad options through International Studies Abroad!