Office of International Programs
Jennings, New Zealand, Summer 2011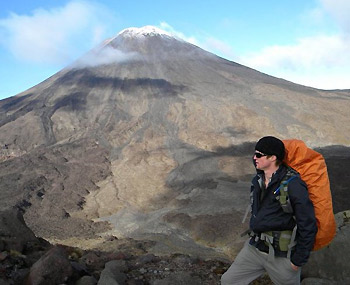 Jennings White, a Minot native, participated in a specialized GlobaLinks program entitled 'Challenge New Zealand: Leadership Development'  that offered him the opportunity to step out of his comfort zone while earning credits toward his International Business degree. "I had never been out of the country on my own and also never experienced such an amazing country," said Jennings.
The program Jennings chose focused on leadership, personal development, team-building and outdoor pursuits including bungee jumping and hiking Mt. Doom, an iconic mountain that was showcased in the Lord of The Rings. In particular, Jennings was amazed by the many traditions of the local Maori tribe, including the hongi, a traditional Maori greeting that involves pressing noses and foreheads together.

His time abroad also proved to be more exciting than he ever anticipated. While in New Zealand, Jennings and his classmates experienced a 6.3-magnitude earthquake, but were luckily in a safe location. In addition, by the time Jennings' program had concluded, his hometown of Minot had experienced a major flood. He cut his travel time in New Zealand short to come back and help with the recovery efforts. Despite these awful distractions at home and in his host country, Jennings still insists that he had an amazing experience.  "I really couldn't have asked for a better study abroad program," he said. "The instructors and the other students where really informative."

Jennings was mesmerized by the Kiwi culture and the amazing landscape so much that it made it difficult for him to leave New Zealand. His eagerness to learn and his love of hiking and adventure made his time abroad an amazing experience, as well as one that will continue to impact his future. "I believe it makes me a better candidate for future jobs. [Studying abroad] really gives you a different perspective on international business," White said.