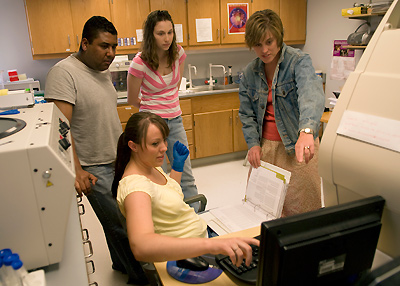 Office of International Programs
Off-campus Employment
International students are never eligible for off-campus employment without special authorization. Always speak with your International Student Coordinator before accepting or participating in off campus employment. International students are not permitted to work off-campus without prior authorization from the Office of International Programs.
Off-campus employment opportunities are extremely limited by immigration regulations. A student who has been in the United States in valid F-1 status for one academic year (fall & spring semesters) is eligible to work off-campus only under certain circumstances:
Curricular Practical Training (CPT)
Optional Practical Training (OPT)
Employment with International Organization
Special Student Relief
Severe Economic Hardship Employment
---
1. Curricular Practical Training (CPT) 
CPT is off-campus employment authorization for international students in F-1 status. CPT is defined by U.S. immigration regulations as being an integral part of the student's curriculum and directly related to his/her major field of study. You must receive academic credit for the experience, and the authorization must appear on your I-20 before you begin work. Working without authorization on your I-20 will result in termination of your F-1 visa status!
Who can apply for CPT?
To be eligible, you must have been in lawful F-1 status and enrolled fulltime for at least the past full academic year. If a graduate program requires immediate participation in off-campus training, CPT may be authorized.
The training must count as academic credit toward your major degree program. If your academic department will not support your application for CPT, then you are not eligible for CPT.
CPT is only available for self-contained internships and practicums that provide a concise opportunity for you to meet specific educational requirements, as described in a program's course of study in the MSU catalog.
CPT is intended for students to meet a specific degree requirement, not to facilitate long-term employment. Therefore, repeat CPT requests will not be approved.
CPT cannot occur after an I-20 extension unless it is a mandatory degree requirement (Ex: Student Teaching).
When can I apply for CPT?
You must have an employment offer before applying for CPT. CPT is authorized for one specific employer, at one specific location and during specific dates.
CPT applications require a minimum of 5 business days to process after you have submitted the completed application to the Office of International Programs.
How many hours may I work if approved for CPT?
CPT authorization is strictly limited to part time employment (20 hours) during the academic year, unless the degree program requires fulltime participation. CPT may be fulltime during the summer as long as you are not enrolled in more than five summer credits.
During fall and spring semesters, you are limited to 20 hours of total combined work. Those 20 hours can be divided between on-campus and CPT work. If you plan to work 20 hours of CPT each week during the academic year, you may not work on campus. CPT cannot be authorized for work that occurs on-campus.
Students authorized for CPT receive a new I-20 with the training dates indicated on the second page. The new I-20 is your documented proof of work authorization. You must not start the training until the dates listed on the new I-20. Working off-campus without explicit authorization is a violation of your F-1 status. You must stop working on or before the CPT end date indicated on the I-20.
According to current USCIS policy, if you use more than 364 total days of fulltime CPT, you will become ineligible for Optional Practical Training. Be aware that USCIS policy can change retroactively and without warning, so CPT may have an unforeseen effect on your eligibility for OPT after you graduate.
What enrollment requirements apply to me while on CPT?
You cannot drop the course taken tied to your CPT authorization, even if you stop working before the end of the semester. If you are dropped from the CPT course for any reason, including non-payment, your CPT will be cancelled immediately. You will not be able to reapply for CPT authorization until the following semester.
You must maintain a full course of study during the period of training in fall and spring semesters, including the course connected to your CPT. The training must take place before you complete degree requirements.
CPT cannot be the only course you take in your final semester unless required by your degree program (Ex: Student Teaching).
Keep careful permanent records of all assignments submitted for the course along with your F-1 documents. These can be requested by Department of Homeland Security at any time.
A note of caution
While USCIS regulations provide a variety of opportunities for international students in F-1 status to be employed, working improperly or without authorization is a serious violation of your status. You should therefore consult with the MSU International Student Coordinator before taking up ANY employment. It is YOUR responsibility to comply with all immigration regulations that apply to F-1 students.
Curricular Practical Training Application Process
If you are interested in learning more about Curricular Practical Training, you must contact the International Student Coordinator by email to receive login information for the required Blackboard training. Once you have completed the video and test, you must set up an appointment to pick up an application packet from the International Office. You will also receive the relevant forms needed to complete the authorization process through the Office of International Programs.
Remember that CPT authorization is not complete until your I-20 is updated with CPT information by the Office of International Programs. Under no circumstances are you allowed to start off-campus employment until you receive a new I-20 with training dates listed on page 2. Working off-campus without prior authorization is a violation of F-1 status.
---
2. Optional Practical Training
Optional Practical Training (OPT) allows students to engage in off-campus employment for 12 months. OPT is defined as "temporary employment for practical training directly related to a student's major area of study." The idea is that you can gain practical experience in your field of study to round out your academic experience before returning to your home country. Therefore, the work must be in your field of study and it must be at the level of your education. Many students do this after they graduate.
OPT can be authorized for a maximum aggregate period of 12 months for each level of study. Students who maintain lawful F-1 status for one full academic year become eligible for this benefit, and you receive a new period of OPT after you complete each level of study (12 months after Bachelors degree, 12 months after Masters degree, etc.)
Granting of OPT is not automatic, although most applications are approved. A student must apply for OPT from the US Citizenship and Immigration Services (USCIS) which in turn issues an EAD card (Employment Authorization Document) to the student that is valid for 12 months. USCIS can take over five months to approve an application for OPT, so students should file their applications with USCIS well in advance of their intended start date. You can send your application but to 90 days prior to your Program End Date on your I-20. There is a filing fee for an OPT application.
If you wish to apply for OPT, you must begin the process early. At the beginning of your final semester at MSU, contact the International Student Coordinator to receive login information for the required Blackboard training. After you finish the online video and test, please make an appointment with your International Student Coordinator to receive an application packet. Be sure to begin this process well in advance if you plan to apply for OPT, even though you cannot actually send in the finished application until 90 days before your Program End Date.
During the period you are working on OPT you are required to keep Minot State notified of your address so it can be updated in SEVIS, and you are required to keep your I-20 valid by having it signed at least once every six months. If you need your I-20 signed and you are not in the Minot area, please mail it to us with a self-addressed return envelope.
More information about OPT can be found here.
---
3. Severe Economic Hardship Employment
As you already know, in order for an I-20 form to be issued for an incoming international student, the student must show that they have the necessary funding to study and support themselves in the United States. If a student's source of funding should suddenly change, through circumstances over which the student has no control, then the student may be eligible to apply for off-campus employment authorization based on "Severe Economic Hardship." The student must document their case carefully, and prove to the USCIS that the change in funding source came unexpectedly. Similar to OPT, an Economic Hardship application has a filing fee, and can take the USCIS between 90-120 days to adjudicate. If approved, this off-campus work authorization expires within one-year, whereupon the student (if still eligible) may reapply. If approved, the employment is limited to 20 hours/week while school is in session but may be full-time during breaks.
To be eligible to apply, the student must;
Have completed at least one full academic year and be in good academic and legal standing,
Demonstrate that there is an unforeseen severe economic necessity beyond the student's control that arose after obtaining F-1 status,
Demonstrate that other employment opportunities are unavailable or are otherwise insufficient,
Establish that employment will not interfere with full-time study.
Specifically, cases where this benefit is NOT available include:
You did not have enough money to begin with and your plan has been to make it through one year and then apply for off-campus employment.
One or both of your parents retire.
Other family members wish to attend school in the U.S. so your family wishes to decrease the support to you.
Annual tuition increases have increased cost.
Adequate on-campus employment is available.
If the financial situation is too severe, part-time employment may not solve the problem. You and the International Student Coordinator will need to look at all options available within the F-1 regulations. It is important for the International Student Coordinator to understand the full scope of your financial necessity and the conditions that created the hardship.
Please keep in mind that work authorization based on Economic Hardship is very difficult to get.
---
4. Employment With International Organizations
This F-1 employment benefit allows F-1 students to work for recognized international organizations within the meaning of the International Organization Immunities Act. Qualifying organizations include the United Nations, World Bank, and World Health Organization. A complete list of qualifying organizations is published at 19 CFR 148.87. None of the qualifying organizations have offices in Minot.
---
5. Special Student Relief
This benefit is available only to students from Indonesia, South Korea, Malaysia, Thailand or the Philippines who obtained visas before June 10, 1998. For more information, contact your International Student Coordinator.
Updated August 2018