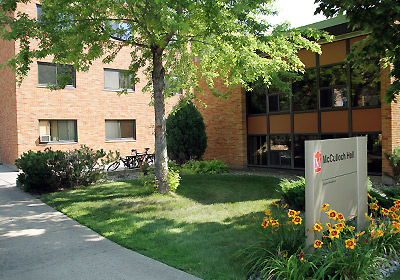 Office of International Programs
Apply for On-Campus Housing
The MSU housing application is available at www.minotstateu.edu/life
Housing assignments start in May, however the sooner you submit an online housing application and the $100 housing deposit to the Residence Life Office, the more likely you are to receive your first housing choice. Applications for housing that are received without the housing deposit will not be assigned rooms. If you submit your application without the deposit, the housing office will hold your application until the fee is paid.
Minot State offers a wide selection of housing and dining options to ensure that all students feel at home. First year students are required to live on campus and therefore are guaranteed housing; however, all admitted students are welcome.
Additional information about housing options and meal plans is available on the Residence Life website. Be sure to read the Frequently Asked Questions and direct any additional questions about Residence Halls directly to Residence Life.
Housing Options
On-Campus Housing
The Office of International Programs recommends that all International Students live on campus during their first year. Residence hall housing is more convenient for class and there are many programs and social activities (movies, pizza parties, discussions) available to hall residents. Campus life at Minot State University is an exciting balance of living, learning, and leadership opportunities. Our residential campus offers you the opportunity to be involved in social events, learn to work with others, and make friends that will last a lifetime. Each residence hall has a lounge area for recreation and entertaining, coin operated laundry facilities, and a small kitchen for personal cooking. Rooms have two beds, a desk, shelving units, a closet and dresser drawers. All rooms have TV and computer internet access.
Students must furnish their own bed linens, including mattress pads. Furniture and drapes for each room are provided by the university. The residence halls have a Residence Hall Director and a student Resident Assistant on each floor. Parking permits for designated lots near the residence halls are handled by the Parking Office. Each room is equipped with a smoke detector. Student's mailboxes are located in each residence hall with mail delivery six days a week.
Rooms are rented by the semester. Students moving to an off-campus residence after the deadline are responsible for the entire semesters rent and no refunds are available to students who choose to move out during the semester, unless they withdraw from the university.
Interim housing
Interim housing refers to days when the residence halls are closed, such as the winter break in December and January, spring break and summer session. The Student Life/Housing Office will allow students to remain in one dorm over those periods. A room rate of $15.00 per day will be charged for each day a student remains in interim housing.
Residence Hall Dining
All students who live in the residence halls must purchase a meal plan. There are five plans available, differing in the number of meals you will take each week in the dining center. There are specific times for each meal, and access to the Dining Room is allowed only with your university issued identification card. If you are ill and cannot go to the dining center to eat, you may ask your Resident Assistant to arrange that a tray with a light meal be brought to your room. If you have classes that run through the allotted meal time, you may ask to arrange for a sack lunch.
Each residence hall is equipped with a kitchen facility that is available for use by all residents. For students who purchase the basic meal plan, weekend and holiday meals can be prepared and eaten in the residence halls. Residents are responsible for the purchase and preparation of their own meals in the residence halls.
Each room or suite is equipped with a telephone jack, but residents must provide the telephone. The telephone you purchase should be touchtone. You will receive a sheet with all the dialing directions for campus phones. All rooms or suites are wired for internet connections, but the student is responsible for their own computer. MSU's IT Central Office has laptops that can be borrowed by students, but they are available on a first come, first served basis. There are several computer labs located around campus that are available for student use.
University Apartments
There are 70 student apartments units on campus. Pioneer Hall has one-bedroom student-family apartments. Campus Heights has 30 student apartment units, 12 two bedroom and 18 efficiency apartments. The apartments are unfurnished except for stove, refrigerator and window blinds. For further information you may contact the MSU Housing Office at 701-858-3363.
Updated Oct. 2016