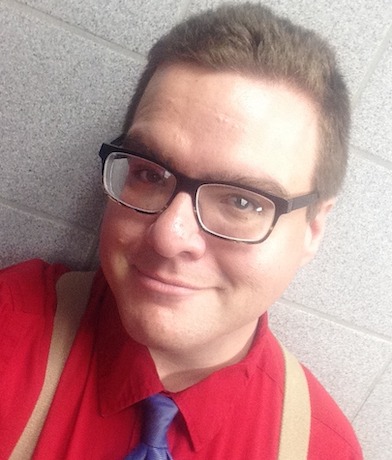 Dr. Samuel Stinson
Assistant Professor, English
Office: 136 Hartnett Hall
Email: samuel.stinson@minotstateu.edu
Phone: 858-3871

Credentials:
BS, Computer Science (Majors: Computer Science, English; Minor: Mathematics): Western Kentucky University
BA, Biblical Studies: Florida College
MA, Literature, Western Kentucky University
PhD, English: Rhetoric and Composition: Ohio University
Courses Taught:
English 110: College Composition I
English 120: College Composition II
English 315: Professional and Technical Writing
More about Dr. Stinson:
My scholarly interests include technical and professional writing, multimodality, game studies, algorithmic culture, and pedagogy. I am convinced that cultivating a sense of curiosity is important in learning, which has perhaps led to my variety of interests. In teaching writing, I appreciate the opportunity to work with students who are beginning their college work and as well as students who are transitioning from the university to their careers. Students in my classes adapt to new writing situations, learn additional skills and approaches to composing, and perhaps more importantly become aware of new ways of viewing the world and grow in their sense of professionalism. I strive to prepare students for this growth by providing opportunities to practice writing, negotiate with peers in collaborative tasks, and find ways to synthesize different writerly styles, modes, and approaches to composing as well as to gain additional genre knowledge through research and engaging with scholarship. 
I'm interested in the topic of transfer, and how learning to write in genres in one context can lead to writing that appears and is adapted to new settings. Transfer, especially through learning new technologies, leads to innovative discoveries and approaches to problem solving. In this way, writing itself also becomes a type of technology that helps us adapt to emerging expectations of audiences. While writing is certainly situated, there is an aspect of writing that transfers with the writer from situation to situation in our social and technological networks, affecting how writers find opportunity to express themselves as they navigate along the convergence of emerging pathways. Along these lines, I'm also interested in how threshold concept knowledge from one field may at times converge with knowledge from other fields and disciplines.   
Outside of the classroom, I enjoy walking, biking, reading, gaming, and listening to music of all kinds. I also volunteer to read audiobooks for Librivox, and my voice has been featured as narrator in a variety of documentaries and other media materials. I am also a reader for Space and Time Magazine, and am a general reader and writer of fiction and creative-nonfiction.