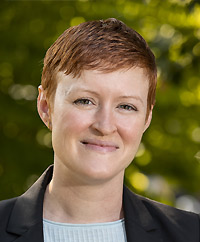 Dr. Lizzy LeRud
Associate Professor, Literature/Rhetoric
Office: 315 A Old Main
Email: elizabeth.lerud@minotstateu.edu
Phone: 858-4336

Education
Ph.D. - Department of English, University of Oregon, June 2017
B.A. - English with honors, Westmont College, May 2007
Courses Taught
ENGL 110 English Composition I
ENGL 191 English Community Seminar
ENGL 261 Foundations of American Literature I: beginnings to 1865
ENGL 262 Foundations of American Literature II: 1865 to present
ENGL 265 Native American Literature
ENGL 270 Introduction to Literary Criticism
ENGL 391 Junior Research Lab
ENGL 402 Contemporary Poetry
ENGL 411 Poetry Workshop
HON 252H Honors Seminar on Visionaries of the Past: "Race, Power, and Nation"
More about Dr. LeRud
Lizzy LeRud is a scholar of multiethnic American literature, poetry, and writing studies. Her essays have appeared in academic journals including Genre, Tulsa Studies in Women's Literature, and Nineteenth-Century Prose, and she also writes for The Poetry Foundation website. Her scholarship examines topics ranging from race and gender in American literature to poetry's forms, cultures, and histories, to practices of radical revision in the writing process. She is the co-editor of Unsettling Poetry Pedagogy, a collection of essays introducing new methods for teaching poetry that promote social and educational justice (under advance contract with SUNY Press). She also co-authored  Jazz Sonnets: A Guide to the American Sonnets of Wanda Coleman, an essential guidebook to the innovative jazz poetics and antiracist politics of Coleman's groundbreaking contemporary sonnet sequence.
Before arriving a Minot State, LeRud taught at the University of Oregon, Willamette University, Emory University, and Georgia Tech. From 2018-2019, she held the NEH Postdoctoral Fellowship in Poetics at Emory University's Fox Center for Humanistic Inquiry. At Emory, LeRud worked extensively in Emory's Rose Library, conducting research in the Library's archival holdings in modern African American poetry. From 2019-2021, she was a Marion L. Brittain Postdoctoral Fellow in the School of Literature, Media, and Communication at Georgia Institute of Technology. This fellowship appointment is designed for emerging scholars to develop innovative teaching in writing and communication, emphasizing digital pedagogy. As a Brittain Fellow, LeRud worked with Georgia Tech's Data Visualization Lab to train students in analyzing sound recordings of poetry performances. From 2021-2022, LeRud also served as Assistant Director of Georgia Tech's First-Year Semester Abroad Program, traveling with incoming first-year students to France and teaching writing courses at Georgia Tech's European campus in Metz, France.
Selected Publications
"Against Prose: Poetry's Defense, Definition, and Dichotomization." Genre, vol 56, no. 2, July 2023, pp. 179-207.  
Full text available online with Duke University Press.
"An X-Ray of the Soul." The Poetry Foundation, 21 November 2022, <https://www.poetryfoundation.org/articles/159138/an-x-ray-of-the-soul>.
"Blues and the South." Routledge Companion to the Literature of the U.S. South. Eds. Katie Burnett, Monica Miller, and Todd Hagstette. Routledge, 2022.
"Bishop, Lowell, and the Confessional Prose Poem." The Edinburgh Companion to the Prose Poem. Eds. Mary Ann Caws and Michel Delville, Edinburgh University Press, 2021, pp. 168-80.
"Heart First Into This Ruin: Revisiting Wanda Coleman." The Poetry Foundation, 11 May 2020, <https://www.poetryfoundation.org/articles/153468/heart-first-into-this-ruin>.
"Radical Revision: Rewriting Feminism with This Bridge Called My Back and Kate Rushin's 'The Bridge Poem.'" Tulsa Studies in Women's Literature, vol. 39, no. 2, Fall 2020, pp. 303-327.
"Living Poems in Thoreau's Prose." Thoreau Bicentennial Essays, special issue of Nineteenth-Century Prose, edited by Richard J. Schneider, vol. 44, no. 2, Fall 2017, pp. 155-76.