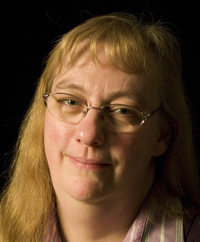 English Program
Dr. Patti J. Kurtz
Associate Professor of English; Director, MSU Writing Center
Office: 315 E. Hartnett Hall
Email: patti.kurtz@minotstateu.edu
Phone: 701-858-3073
- Personal Website

Credentials:
BA, English: Waynesburg University, Waynesburg, PA
MA, English: Slippery Rock University of Pennsylvania
DA, English,: Idaho State University, Pocatello, ID
MFA Writing Popular Fiction, Seton Hill University, Greensburg, PA
Courses Taught:
English 110 & 120 (Composition 1 and 2)
English 244 Writing in Multiple Genres
English 410 Fiction Workshop
English 338 Literature for Young Adults
English 209: Introduction to Linguistics
English 317: Teaching Writing
English 318 and 318 L: Writing Tutor Training
English 343: Graphic Novels
Senior Seminar
More about Dr. Kurtz:
Dr. Kurtz sees herself as a writer first and then a teacher of writing. She has been writing for over 10 years, mainly fiction for teens, poems, fantasy stories and novels, and mystery novels. Teaching writing is the best of both worlds for her, because she gets to teach students to love to write as much as she does. She also loves words and language and brings this fascination with English to her linguistics and grammar courses.
A former Writing Center tutor herself, Dr. Kurtz also directs the MSU Writing Center, located on the lower level of Gordon Olson Library. The Writing Center employs student tutors to help writers one on one with their paper assignments and is free for all MSU students.
Dr. Kurtz is a native of Pittsburgh, PA, but she loves North Dakota, too. She is a member of the Society of Children's Book Writers and Illustrators (SCBWI). In 2006, she won the Emily Rhoades Johnson Award for the most promising manuscript at the UND/SCBWI Dakotas conference in Grand Forks. She was a the SCBWI Dakotas chapter web master for several years.
She is currently working on a young adult historical novel, a young adult urban fantasy novel, and an adult level detective novel. She regularly attends The Pikes Peak Writers Conference in Colorado Springs, CO, where she networks with other authors, agents, and editors. She has read her work at the NDUS Humanities summit and presented at the Midwest MLA conference several times.
Dr. Kurtz earned her MFA in Popular Fiction program at Seton Hill University in Greensburg, PA in June 2016. Her thesis is a young adult sports novel titled Worth the Risk. She is currently submitting it for publication.
To learn more about Dr. Kurtz's writing, visit her "other" web page.