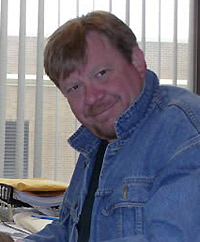 Dr. Eric Furuseth
Coordinator, Humanities Program, Associate Professor of English
Office: 325 W Hartnett Hall
Email: eric.furuseth@minotstateu.edu
Phone: 701-858-3369

Credentials:
BS, BA, MA: University of North Dakota
PhD: Washington State University

Courses Taught:
Humanities 251, 252, and 253
English Composition 110, 111, 120, and 121
Age of Shakespeare
British Literature 252
British Poetry
British Novels
World Drama
World Literature
Introduction to Literature
Introduction to Film
More about Dr. Furuseth:
Dr. Furuseth is active as literary critic and as a creative writer and performer, presenting often at local and regional conferences and presentations. He has written mainly about 18th and 19th century British Literature, film, women writers, and Maxwell Anderson. He will be delivering a paper on Samuel Johnson's "Journey to the Western Isles of Scotland" in May, 2009 at the Northern Plains Early British Literature Conference in St. Cloud, Minnesota.
Also, Dr. Furuseth performs regularly with Western Plains Opera, Mouse River Players, MSU Summer Theater productions, and with the Minot Chamber Chorale. In 2008, he sang in the chorus of Western Plains Opera's "Die Fledermaus." He also performed once again as "Lord of the Manor" for the "Renaissance Feast" of the Chamber Chorale as well as singing solos in their other concerts. He is also working on several short stories, which he has presented publicly. In January, 2008 he read one of them "Mondak, a Frontier Cleansing" at the Taube Museum in Minot.
Dr. Furuseth believes that the better the students understand the arts, the more they will enjoy them. He believes in the value of experiencing great performances "first hand" as often as possible. Minot is a relatively small city, but is a vibrant cultural center for a large geographic area. With Minot State as its center, the community of Minot offers opportunities for seeing and hearing art, music, and literature of high quality all year round. Furthermore, Minot is small enough so that students who wish to participate in arts activities will find good opportunities to do so.
Dr. Furuseth is currently President of the Western Plains Opera Company and a member of the North Dakota Humanities Council.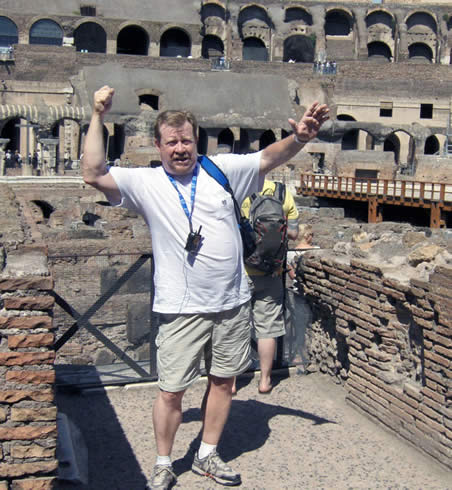 Gladiator doing battle with the hot Roman sun in the Colosseum, summer 2008