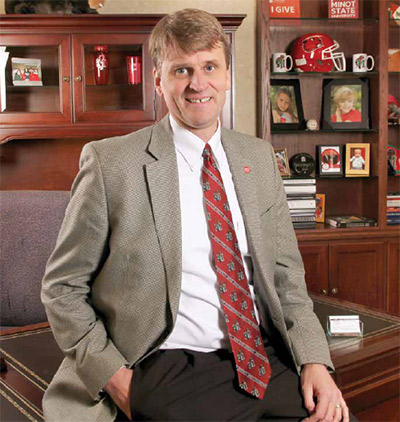 Message from President Shirley
Greetings alumni, friends, and supporters of Minot State University.
For over a century, our beloved campus at Minot State has been a beacon of opportunity, hope, and optimism for thousands of students seeking to positively enhance their path in life. Minot State has proudly carried on this tradition of preparing students to progress in their journey, and our legacy in this regard is as strong today as ever. As times change and new possibilities emerge, we owe it to MSU's students of today and tomorrow to ensure these potential opportunities remain vibrant and accessible.
To that end, Minot State is proud to embark on a new $50 million fundraising campaign. While it is certainly an ambitious undertaking, it is also the right course of action at this time so we can continue building on Minot State's remarkable legacy. As you will see, we are striving toward initiatives in this campaign to assure we fulfill our mission — today, tomorrow, and beyond. I am asking you to join us on this journey and help guarantee that not only our graduates live up to their fullest potential, but to ensure our campus fulfills its potential as a destination of educational excellence, student fulfillment, and life-changing opportunities.
We are proud to announce our EMPOWER capital campaign. This will be a fantastic journey that includes five main campaign pillars: Scholarships, Academic Programs, Academic Facilities, Athletics, and the Vision Fund. Please take a look at the goals established within each pillar of this $50 million campaign to learn about the many opportunities in which you can be involved in writing MSU's exciting next chapter. I invite you to come along on this ride, and just like our students, we want you to be seen, be heard, be inspired, be empowered, and belong!
With tremendous gratitude and thanks, GO BEAVERS!

Steven W. Shirley, PhD
President