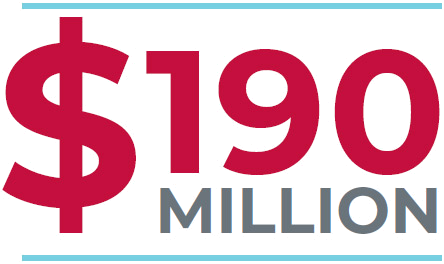 Economic Impact
Minot State University plays a key role in the economic impact on the region. The most recent report shows Minot State's total economic annual impact estimated at $190 million.
Every two years, in conjunction with North Dakota's biennial Legislative Session, the North Dakota University System (NDUS) works with researchers from NDSU's Department of Agribusiness and Applied Economics to assess the overall financial impact of the 11-campus NDUS. The report shows an overall impact of $5.5 billion for the entire system during the 2019 fiscal year.
The impact of Minot State is estimated to support nearly 500 jobs in the region in addition to the full-time and part-time jobs directly at the University.

"Our students shop, dine, and consume a lot of services in the community, and they also figure prominently in filling part-time jobs, internships, and full-time careers following graduation. The many events that occur on campus attract tens of thousands of visitors to the region each year. Visitors to campus attend athletic events, symphonies, plays, concerts, opera productions, art shows, and Summer Theatre. Family members and friends visit their students and attend campus events and major celebrations such as Commencement. Even those not directly connected to campus spend time in the community – think of youth athletic tournaments held in the seasonal bubble or MSU Dome, K-12 festivals and camps on campus, and major regional/statewide events such as state high school volleyball or basketball tournaments that annually fill the Dome. It is our privilege hosting visitors from far and wide, and clearly these visitors throughout the year have a tremendously positive impact on local economies," said Minot State President Dr. Steven Shirley.
Our campus adds to the cultural fabric of our society and helps provide an educated force of talented human capital to keep our region and state moving forward. We are proud to provide the next generation of teachers, social workers, business leaders, musicians, scientists, speech pathologists, nurses, broadcasters, artists, researchers, law enforcement, and much more for North Dakota.