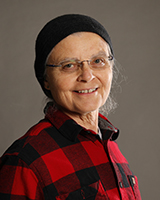 Art Program
Mrs. Linda Olson, MFA
Full Professor
Office: 148 Hartnett Hall
Email: linda.a.olson@minotstateu.edu
Phone: 701-858-3836

Courses taught:
ART 0124 Three-Dimensional Design
ART 0250 Ceramics I
ART 0351 Ceramics II
ART 0352 Ceramics III
ART 260 Sculpture I
ART 0341 Sculpture II
ART 0412 Advanced Independent Ceramics
ART 0413 Advanced Independent Sculpture
ART 0415 Advanced Independent Jewelry
ART 0416 Advanced Independent Crafts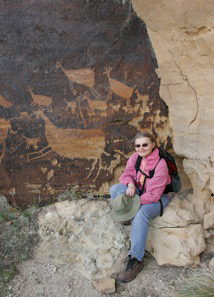 Linda Olson has taught at Minot State University since 1990. She enjoys the challenges that come with each new semester. Olson directs the North Dakota Art Gallery Association, and serves on the Board of Directors of Arts North Dakota. Olson has worked extensively documenting Native American rock art sites in the United States since 1988. Documentation is presented for exhibition with interpretive text panels detailing recording techniques, rock art imagery and researched information about the images. Olson serves as Chair of the Division of Humanities at MSU.
Linda Olson was raised in McHenry County, North Dakota. Olson graduated from Drake High School with Honors, and from Minot State University Cum laude with majors in art, English and psychology. Olson earned a Master of Arts, Magna cum laude, in 1987 from the University of Montana and a Master of Fine Arts, Magna cum laude, from the University of North Dakota in 1990.
Regional galleries have exhibited Olson's artworks. Nationally known jurors have included Olson's work in juried exhibitions. Olson has work in several public collections including the North Dakota Council on the Arts, the Skien, Norway Art Center, the University of North Dakota, North Dakota State University PEARS Collection, and Minot State University, as well as in many private collections. Olson is well known for her rock art documentation, and several of her artworks have been included in publications.