Ann Nicole Nelson Hall
Minot State University's rich history began in 1913. In 1925, the State Teachers College at Minot opened its north auditorium in Old Main, which included a 950-seat auditorium, a spacious balcony, a wide stage and dressing rooms. The college finally had a place for its performing arts and music events. Because of his love for the arts, the campus administration named the auditorium after the college's third president, Dr. George McFarland. The auditorium carried the name of McFarland Auditorium until 2003.
On February 1, 2003, Minot State University rededicated the performance venue after a gracious gift was received from Gary and Jenette Nelson in memory of their daughter, Ann. Here's Ann's story.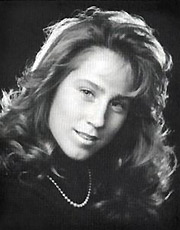 Ann lived on this earth between the years 1971 and 2001. Her life was both joyful and purposeful. She looked for meaning in all her experiences and seemed to be guided by a plan that was greater than us all.
She placed great value on education and believed that all the world was a classroom. This led her to travel throughout this country as well as many others. She loved and enjoyed people, embraced diversity and felt that we all have much to learn from each other. Ann established college funds for many of her young relatives and friends. She attended school in Stanley, N.D.; Campus School on the campus of Minot State University, Minot, N.D.; and Wayland Academic in Beaver Dam, Wisc. She graduated from Carleton College in Northfield, Minn. Ann also studied at Cambridge in England and spent a semester on a study tour throughout China. She had spent time in Peru, Norway, and Ireland.
Ann was born on Syttende Mai and loved to celebrate holidays and special occasions with her friends. Her birthday party sometimes lasted for a week. Ann enjoyed all sports and participated in a variety of events including skiing, golf tennis and pool.
Ann died as a result of the terrorist attack on the World Trade Center where she worked on the 104th floor as a bond broker for Cantor Fitzgerald. She previously worked for Dain Rauscher from 1993 to 2000, first in Minneapolis, and then in Chicago.
Today, Ann Nicole Nelson Hall responds to the academic mission of the MSU College of Arts and Sciences by supporting the work of students and faculty. Ann Nicole Nelson Hall rings proudly with multiple university and community music and theater performances throughout the year. In addition, educational outreach programs complement the hall's contributions.
With this gift, Minot State University expresses its deepest appreciation to Gary and Jenette Nelson.