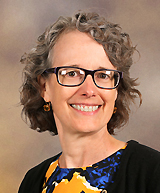 Teacher Education and Kinesiology
Dr. Kathy Hintz
Associate Professor, Elementary Education Coordinator
Office: Swain 218D
Email: kathy.hintz@minotstateu.edu
Phone: 701-858-3572

B.A., Political Science, Carleton College
M.A.T., Social Studies, Brown University
Ph.D., Teaching and Learning with emphasis on Teacher Education, University of North Dakota
Philosophy
Classrooms are places of collaborative, engaging learning.
Interests
Kathy Hintz teaches core courses for undergraduate and graduate students in teacher education and courses in elementary and secondary social science methods. Her primary interests include social studies education, differentiated learning, inquiry-based teaching methods and inclusive teaching methods. Her dissertation research focused on the use of the Social Studies Alive! and History Alive! textbooks in elementary social studies classrooms.
Kathy Hintz has held leadership positions in local chapters of Phi Delta Kappa (PDK) and Delta Kappa Gamma (DKG). She is a member of Association for Supervision and Curriculum Development (ASCD), National Council for Social Studies (NCSS) and the NCSS subgroup College and University Faculty Assembly (CUFA).
Kathy has published two articles on how the 2011 Minot flood affected schools. The first, It Takes a Village to Start the School Year: A Community Rallies after a Natural Disaster, was published by Delta Kappa Gamma Bulletin in the Spring, 2013 issue. The article focused on how schools in Minot started the school year after the flood. The article can be accessed at www.dkg.org. The second article focused on how Minot schools coped with temporary facilities during recovery from the flood. Lessons from a Disaster on the Great Plains was published in the December, 2013/January, 2014 issue of Phi Delta Kappan and is available at http://www.kappanmagazine.org/content/95/4.toc to subscribers or through public or academic libraries.
Kathy's article on the relationship between elementary teachers' philosophies, textbook materials, and their classroom practice, "A Better Vision of What Social Studies Can Be:" How Elementary Teachers' Philosophies Influence their Use of the History Alive! Textbook, was published in Theory and Research in Social Education in March, 2014. It can be accessed at http://www.tandfonline.com/doi/ref/10.1080/00933104.2013.876697 and is available to subscribers and academic libraries.
Prior to joining the faculty full time she taught as an adjunct lecturer at MSU in both the social science and education departments. She also taught high school social studies in Chelsea, Michigan and worked in fourth grade at New Canaan Country School in New Canaan, CT and English as a Second Language in Paris, France and Andover, MA. She likes to garden, bicycle, and travel in her spare time.