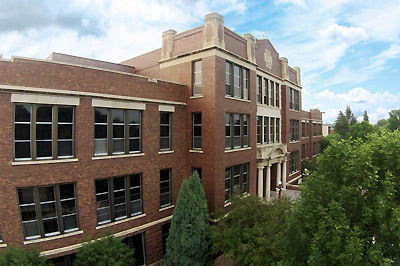 MSU Strategic Plan: Empowering Generations
Strategic Planning & Budget Council
Objectives: 1) To implement MSU's strategic plan, Empowering Generations, and to advise in the budget development and required University budget modification processes. 2) To identify priorities and create implementation calendars along with the funding mechanisms to ensure Minot State University's success. 3) To review MSU's strategic goals, objectives, and action items as needed.
Meetings: Semi-Monthly; subcommittee meetings convening regularly to conduct research, fact-finding, and monitoring of plan.
Minutes: Archived copies
Membership: Members are nominated by respective governance groups and appointed by the President and include the following: VPAA (chair), VPAF, VPSA, Athletic Director, Associate VP, Director of Institutional Research, Director of Marketing, Director of Enrollment Services, six faculty (two from each college), two staff representatives, two student representatives.
Committee Members
Laurie Geller, VPAA, Chair
Brent Winiger, VPAF
Kevin Harmon, VPSA
Andy Carter, Athletic Director
Jacek Mrozik, Associate VP
Cari Olson, Director of Institutional Research
Teresa Loftesnes, Director of Marketing
Katie Tyler, Director of Enrollment Services
Staff
Mike Linnell
Annette Mennem
Faculty
College of Business
     Jay Wahlund
     Linda Cresap
College of Education and Health Sciences
     Ann Beste-Guldborg
     Warren Gamas
College of Arts and Sciences
     DeVera Bowles
     Nicole Thom-Arens

Students
Haokun Yang/Cassandra Daniel
Aaron Richard
Guidance: chaired by the VPAA; agenda distributed via email by Monday of the week of the meeting and available to campus on the MSU Sharepoint site or Council website; minutes recorded and approved at the following meeting; approved minutes posted on the MSU Sharepoint site or Council website.
Principles:
Open and honest deliberation
Institutional, data-driven viewpoint
All key issues and topics affecting institution are to be raised and discussed
All decisions are supported externally
Purposes:
Implement the strategic plan.
Oversee strategic planning implementation and budgeting processes, including sustainable resource allocation methodologies and mid-cycle budget modifications.
Establish strategic planning research procedures (define key performance indicators, conduct environmental scan).
Set clear timelines and processes.
Implement a process of institutional review, prioritization, and plans for consolidations, eliminations, and reallocation.
Initiates periodic scans of internal and external environments.
Communicate with campus constituency groups (e.g., senates) and seek total understanding and commitment by campus.
Work to align the plans of MSU and those of specific units.
Assess and publicize progress toward goals and action items.
Regularly review goals, objectives, and action items.
---