School Psychology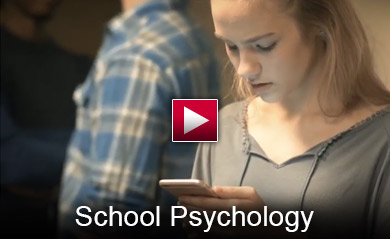 We are accepting applications for the Education Specialist in School Psychology program that will begin this Fall semester. You will find this program attractive because:
courses will be delivered in a hybrid-flexible mode
20,000+ jobs exist nationwide
the program holds the NASP accreditation
tuition is affordable (in-state tuition for all students)
only program in ND
the coursework will prepare you to sit for the NCSP and/or ESPB credential
The deadline for the Fall semester 2020 is July 31, 2020. Apply today!
Contact Tamara Waters-Wheeler, program director, at 701-527-6733 to find out how you can become a student.
The Education Specialist in School Psychology prepares students for certification as a School Psychologist. Graduate students participate in a rigorous three year program. The program emphasizes hands-on experience culminating in a one year, 1200 hour internship.
The program provides students with the theoretical and practical skills to be an effective school psychologist. The curriculum stresses assessment skills, intervention techniques, and consultative strategies through numerous practicum opportunities. The program trains practitioners who are culturally competent service providers.
The school psychology program at Minot State University is approved by the National Association of School Psychologists.