MSU Online
Welcome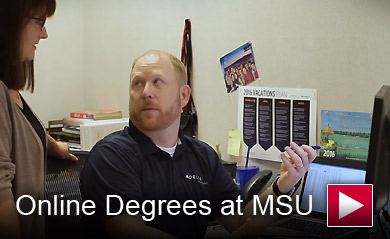 Minot State is committed to meeting the needs of today's learner. Deciding to pursue a degree or return to finish a degree is a life changing decision. An online degree program provides a flexible opportunity to fulfill your educational goals. Minot State offers undergraduate degrees, graduate degrees, and certificates entirely online. We are a regionally accredited institution that has been offering online degrees for 18 years. Our online courses can be completed anywhere, anytime and at an affordable cost! Please see Online Degree Programs for a list of degree options.
Announcements
Registration for Fall 2018 online courses is in progress.
Out of State Students: Are you interested in taking courses or pursuing an online degree program with MSU, but reside outside of North Dakota? If so, please check out State Authorization page for information on programs available in your area.  
 
Do you need help with Campus Connection? MSU has developed step-by-step instructions to help you.
Links
Office Information
Minot State University Online
Attn: Center for Extended Learning
500 University Avenue West
Minot, North Dakota 58707

Tel: 701-858-3218 or 701-858-3822
Toll free: 800-777-0750 Ext. 3218 or 3822
Fax: 701-858-4343
online@minotstateu.edu

Office Hours:
    8:00 AM - 4:30 PM CT, Monday - Friday
MSU Campus Location:
    Administration Building Room 365