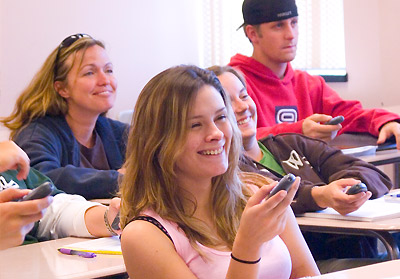 The Office of Instructional Technology (OIT)
Office of Instructional Technology Equipment Loan
Faculty may sign-out equipment on a short-term basis. We cannot guarantee availablility of equipment and we encourage faculty to reserve equipment in advance by calling 701-858-3832 or by sending an email to douglas.tiedman@minotstateu.edu.
Equipment cannot be loaned to students or TAs. If equipment is lost, users are responsible for replacing them. Our offices are served by an elevator on the west end of building, near the first floor bookstore.
Loan item
Brief description

The only education-focused panel that combines traditional whiteboard simplicity with the ability for real-time multi-way inking from any student device – anyone can contribute ideas, solve problems, capture notes and share assignments to review later.

You can easily switch from your SMART Notebook lesson to this magical whiteboarding experience within whole-class and student-led learning.

Used for faculty development sessions and available for faculty use to create and capture Smartboard lectures. 


If shooting and posting video is your thing, the all-new VIXIA Mini is for you - an innovative personal camcorder designed to help you share your content with the world. The VIXIA Mini is super slim and weighs approximately 5.6 ounces, so you can capture beautiful, high-quality video and stills wherever you go. To match its outstanding image quality, the VIXIA Mini features a built-in microphone to liven and enhance your video with superb stereo sound. Get creative with a genuine Canon f/2.8 fisheye lens for ultra-wide scenes (160° video/170° stills) that play with perspective, then switch to Close-up mode simply by touching the screen. Capture clear images even in low light with the Canon HS SYSTEM, which combines the 12.8 Megapixel High-Sensitivity CMOS sensor and Canon DIGIC DV 4 Image Processor. Shoot Full HD video in MP4 format for easy sharing, and record to convenient micro SD/SDHC/SDXC cards. Built-in Wi-Fi® makes sharing on blogs and social networking sites easy; you can even shoot remotely and live stream. The tiltable 2.7-inch capacitive touch panel LCD, adjustable integrated stand and tripod socket make self-shooting effortless. The VIXIA Mini is ready to shoot when you are, with an automatic lens cover that opens when you power on. Use the VIXIA Mini to teach, demonstrate, model, capture field experiences, and more.

Zoom Q4 is about making videos.



Tackle even the most challenging projects with ease, and let them live up to their full potential. Whatever the application — from YouTube video to indie film, music video to tutorial, video blog to streamed webcast — you can count on your Q4 to deliver powerful and evocative content.

Looxcie Mobile HD Webcam: Go anywhere and video anything with this robust, minature web camera and then upload to your iPhone, iPad, PC, or online course.
Swivl Mount: an infrared detection mount that rotates a webcam or other camera device for streaming video.
Tegrity Lecture Capture Kit A
Kit A offer a USB-based HD camera with a high quality acoustic microphone (with audio jack) designed to pick up the instructor within 30 feet and classroom activity. This kit is ideal of picking up the instructor and class interaction.
Tegrity Lecture Capture Kit B
Kit B offers a USB-based high quality webcam with a high quality USB-based wireless microphone so the instructor can move about the classroom and not pickup class noise. This kit is ideal for strictly lecture capture.
Tegrity Lecture Capture Kit C
Kit C offers a USB-based high quality webcam with a desktop microphone for small room and small audience applications. This kit is ideal for capturing the activity of small group.
Digital Audio Recorder
In addition to capturing stereo sound from meetings, interviews and other critical information expected of digital recorders, you can download and create podcasts with the DS-30.
Phoenix Audio Duet PCS
The Duet provides 360 degree room coverage so more than one person can participate in an online conference, Headset-Free and Handset-Free. Loudspeaker output (always a problem with laptops) is sufficient for larger offices and even medium sized conference rooms.
Flip UltraHD Video Camera
Captures up to 2 hours of beautiful 720p HD video! One-touch recording makes creating videos simple. See it all on the 2" anti-glare display. HDMI™ Mini Connector lets you watch video on your HDTV, PC, and WWW.
Wacom Bamboo Tablet
Bamboo Pen turns your computer into the ultimate editing tool and gives you the ability to paint, draw, edit, and personalize your documents with handwritten notes, sketches, and doodles. The ergonomically-designed pen fits comfortably in your hand, and the tablet's textured work surface makes you feel like you're working with a pen on paper.
Headsets
We have various headsets with microphones.
Quick Cams
Several quick cams are available. There are both monitor and tripod mounted options, depending on your need.
Personal Response System
PRS combines interaction and assessment to enhance classroom productivity. Using their radio-frequency or infrared wireless clickers, students can answer questions and record their responses with a simple click of a button. Use PRS to take attendance, give quizzes and tests, or for lesson review.

Only 30 clickers are available.
Livescribe Echo Smart Pen
Record everything you hear, write, and draw. Tap your notes to play back your recordings. Save and share interactive notes to your computer, iPad, or iPhone.
Sony MiniDV
The Sony MiniDV is compact and provides for quality video. Ideal for short captures, presentations, or field trips. (Tripod is recommended)

The Media Center of the Office of Instructional Technology serves as an in-house video and audio production center for the MSU faculty. Some operations may require faculty to complete. Training is provided.
Tripods
Full size and mini tripods are available for use.