24th Annual Workshop for Strings, Winds, and Piano
Hosted by Luminus and Charlie Young, with guest artists Beo,  Adam Estes, Tim Nelson, and more.
DCM 2020: NEW dates, Thursday July 30 to Sunday August 2
We are excited to be able to offer an opportunity for live chamber music this summer, but fully realize the responsibility for keeping our musicians safe. Read below an initial list of guidelines for rehearsal, moving around the campus, and gathering as a large group. At any point these are subject to change, including a full cancellation of DCM, based upon the latest information about COVID-19.
Schedule
schedule

| | | |
| --- | --- | --- |
| Thursday, July 30 | 5:00-6:30pm | Registration, lobby of Old Main |
| | 7:00-8:30 | Opening session, including review of health precautions |
| Friday, July 31 & Saturday, Aug 1 | 9:00-noon | Rehearsal and Faculty presentation |
| | 1:30-4:00 | Rehearsal and Faculty presentation |
| | 6:30-8pm | Chamber Music reading, with faculty |
| Sunday, Aug 2 | 9:00-10:15 | Rehearsal |
| | 10:30-noon | Final Concert part 1 (streamed) |
| | | Bag lunch served outside |
| | 1:00-2:30 | Final Concert, part 2 (streamed) |
Tuition and Costs
NEW, for 2020: pay-what-you-can-afford. Actual costs must be covered (room and board, food), but tuition will be listed separately. We ask that all who can pay full tuition do so, but that all others who wish to make chamber music, pay what they can afford. No distinction will be made, and no one other than the DCM administrators will know. Details will be sent upon receipt of the application.
Tuition: $220, includes t-shirt and Bag Lunch (to order) on Sunday
Housing: We ask that all who are traveling from outside of Minot find hotels or home stays. Please ask for help in this regard if you need it.
Food during DCM: As a safety precaution, longer meal periods and a later start are scheduled to give participants more time to make their own meal arrangements. All have the option of ordering a pre-made lunch on Friday and/or Saturday: $10 per lunch. Menu and ordering details to come out the week before camp. Orders to be paid at registration.
Health and Safety at DCM 2020
Minot State University and Dakota Chamber Music are committed to slowing the spread of COVID-19, and first and foremost will honor all state and university policies that govern the circumstances under which we may safely gather. It is likely that DCM 2020 will have to be postponed until 2021.
The decision about whether to hold DCM 2020 will come not later than Monday, July 6, three full weeks before the start of the July dates. Even then, new circumstances could cause us to cancel. Therefore, the timeline for DCM 2020 is as follows:
July 1 applications close. DCM faculty will begin to form groups and choose music. Deposits will be solicited via check, but will not be cashed until the actual event.
July 6. Based upon the current understanding of health policies and COVID-19, we will make a determination of whether to mail music or postpone.
July 7-26. Based upon any new information, we may postpone DCM to 2021, asking for a return of music by mail.
Safety guidelines, subject to change based upon MSU policies and new health information:
All participants are required to wear masks at all times while on campus* and observe a 6' minimum distancing policy during all activities. (*exceptions given during small group rehearsals)
Make frequent use of hand sanitizer, available in all rehearsal rooms and at stations installed throughout the building.
Cap enrollment at 40 musicians along with 6 faculty. Maximum of 46 people spread throughout the Music area or gathered together in ANNH. For most on-campus time, musicians will be divided into groups of 3-6 musicians plus a coach.
Make use of virtual coaching and faculty presentations, involving guest faculty without having to host them on campus.
Each ensemble will have a room exclusive to their use, sitting in the same locations each time.
Wipe down all shared equipment (such as pianos) after every use, with wipes provided.
Schedule staggered rehearsal breaks to reduce traffic.
Encourage participants to take breaks outdoors, weather permitting.
Large group sessions in Ann Nicole Nelson Hall will have pre-determined seating/spacing.
Final concert format is TBD, but audiences will need to watch via stream.
Photos

| | |
| --- | --- |
| | |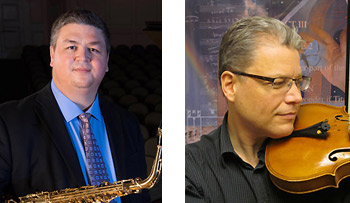 Event Dates
Event Dates
High School Program    
July 26-31, 2020
Adult Workshop
July 26-31, 2020
Adult Retreat or Add-on Session  
July 30-Aug. 2, 2020
Now beginning its third decade, Dakota Chamber Music continues its great tradition of making chamber music come alive each June. At DCM, Luminus, guest faculty and participants work together to understand and communicate in the language of music. Faculty model and coach curiosity about history and theory, creative solutions to rhythmic, technical, and interpretation problems, and how to breathe life back in to the black and white notation, lying dormant on the page.
Among the most compelling aspects of DCM, faculty present daily sessions on their own music (for the Faculty Concert) demonstrating practice and rehearsal techniques, their own problems and solutions to technical and musical problems, and helping the participants relate to the context, construction and meaning of the work(s).
All music-making at DCM is a shared experience, for faculty and participants: the end results are driven by a community.
---
DCM accepts applications from both pre-formed ensembles and individuals; individuals will be placed into ensembles by age and experience.
Participants will enjoy daily rehearsals, coaching sessions, and masterclasses throughout DCM, working toward their concluding performance.
All rehearsals and performances will take place in Minot State University's state-of-the-art facilities and Ann Nicole Nelson Hall, one of the finest acoustic spaces in the upper Midwest.
University Credit (1-2 Grad Semester Hours) is available to all adult participants.