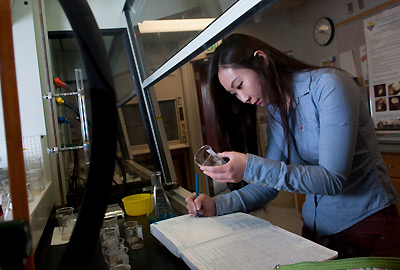 Facilities and Instrumentation
Minot State University Chemistry is located on the third floor of the Cyril Moore Science Center. The state of the art laboratories include an organic lab with hoods for every pair of students. The general chemistry laboratories provide ample space and resources for all students.
Instrumentation
X-ray diffractometer (XRD)
UV/Vis Spectrophotometer
FTIR
Gas Chromatography - Mass Spectrometer
Atomic Absorption
Gel Electrophoresis System
Analytical Balances
Nuclear Magnetic Resonance (NMR)
Other Instrumentation Available
Inductively Coupled Plama Atomic Emission Spectroscopy
For more information on the Chemistry Program at Minot State University, contact Dr. Bob Crackel.