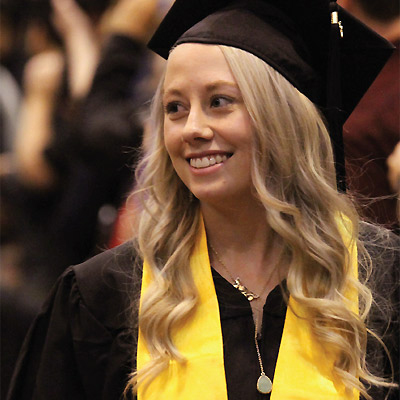 About Accreditation at MSU
ac·cred·it·a·tion
ACCREDITATION … a review of the quality of higher education institutions and programs.
—Council for Higher Education Accreditation
ACCREDITATION at Minot State University:
MSU's accreditation is both regional and programmatic. Minot State University has earned regional institutional accreditation through the Higher Learning Commission (HLC). Additionally, 36 majors have earned discipline specific accreditation. Accreditation assures the student and the public that the university and its academic programs are of high quality. Regionally accredited institutions have access to federal and state funding to support student financial aid programs. Accreditation is also important for students when transferring among universities. Initial accreditation was granted to Minot State University on Jan. 1, 1917, and reaccreditation takes place on a recurring schedule.
Minot State University is accredited by the Higher Learning Commission , a regional accreditation agency recognized by the U. S. Department of Education.
Accreditations for specific academic programs
National Addiction Studies Accreditation Commission
1001 North Fairfax Street, Suite 201, Alexandria, VA  22314
International Assembly for Collegiate Business Education
PO Box 25217, Overland Park, KS 66225, (913) 631-3009
• Accounting
• Energy Economics & Finance
• Finance
• International Business
• Management
• Management Information Systems
• Marketing
• Information Systems (MSIS)
• Management (MSM)
Commission on Accreditation of Athletic Training Education
6836 Austin Center Blvd., Suite 250 Austin, TX 78731-3193, (512) 733-9700
Council on Academic Accreditation in Audiology and Speech-Language Pathology of the American Speech-Language Hearing Association
2200 Research Boulevard, #310, Rockville, MD 20850, 800-498-2071 or 301-296-5700
• Master of Science in Speech-Language Pathology
National Association of Schools of Music
11250 Roger Bacon Drive, Suite 21, Reston, VA 20190-5248
• Music Education and Music
Accreditation Commission for Education in Nursing, Inc.
3343 Peachtree Road NE, Suite 850, Atlanta, Georgia 30326
      and
North Dakota Board of Nursing
919 7th Street, Suite 504, Bismarck, ND 58504-5881
Council on Social Work Education-Baccalaureate level
1600 Duke Street, Alexandria, VA 22314-3421
National Association of School Psychologists
PO Box 791089, Baltimore, MD 21279-1089
• Education Specialist Degree in School Psychology
National Alliance of Direct Support Professionals
1971 Western Avenue, #261, Albany, New York 12203
• Human Services: Intellectual and Developmental Disabilities
National Council for Accreditation of Teacher Education/Council for the Accreditation of Educator Preparation
2010 Massachusetts Avenue NW, Suite 500, Washington, D.C., 20036-1023
      and
North Dakota Education Standards and Practices Board
2718 Gateway Avenue, Suite 204, Bismarck, ND 58503-0585, (701) 328-9641
EDUCATION MAJORS IN:
• Art
• Biology
• Business
• Chemistry
• Communication Arts
• Early Childhood
• Earth Science
• Elementary
• English
• History
• Mathematics
• Music
• Physical Education
• Social Science
• Special Education
• Spanish
• Theatre Arts