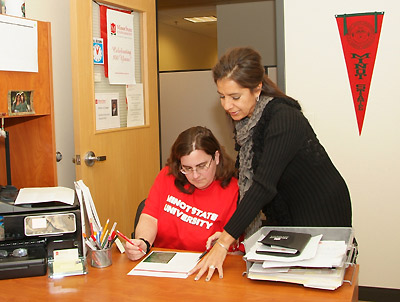 Bobbi Jo Zueger, MSU student services director, at BSC.
Center for Extended Learning
MSU at BSC
Minot State University makes it convenient to earn your Bachelor degree without having to leave Bismarck with six degree completion programs on the BSC campus:
Classes are taught in the classroom with hands on learning, research, and a low student to faculty ratio.
Looking for a major not listed above or need more flexibility? Supplement your BSC campus courses with internet courses through MSU Online. Currently, 10 undergraduate degrees and over 125 courses are offered online.
Questions
Contact Bobbi Jo Zueger, MSU Student Services
1815 Schafer Street, 1st Floor, Office 152
Bismarck, ND, 58501
701-224-5496
bobbijo.zueger@minotstateu.edu

Request for Information