Communication Disorders
Welcome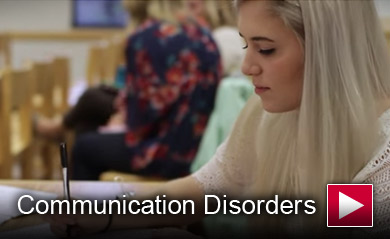 About the Department
The Department of Communication Disorders offers a Bachelor's Degree in Communication Disorders and a Master's Degree in Speech-Language Pathology. The Master's of Science education program in Speech-Language pathology at Minot State University is accredited by the Council on Academic Accreditation in Audiology and Speech-Language Pathology of the American Speech-Language Hearing Association, 2200 Research Boulevard, #310, Rockville, MD 20850, 800-498-2071 or 301-296-5700. The Department also offers a Post-Baccalaureate Program for individuals who have an undergraduate degree in a discipline other than Communication Disorders and who desire to apply for admission to a graduate program in speech-language pathology.
All of the Communication Disorder Faculty hold the Certificate of Clinical Competence from ASHA and are also licensed by the North Dakota Board of Examiners in Speech-Language Pathology and Audiology. The Communication Disorders Clinic is one of the largest in the midwest and is an outstanding facility serving clients from North Dakota, Montana, and Canada.
   → General Information
   → Accreditation and Accolades
Mission of the Department of Communication Disorders
The mission of the Department of Communication Disorders is to provide state-of-the-art preservice training, engage students in clinical/research activities, and maximize the quality of life for people with communication problems.
Goals of the Speech-Language Pathology Program
The goals of the master's program in speech-language pathology are as follows:
To provide course offerings and clinical experiences reflecting pertinent and current content necessary for personal growth and professional competence in the field of speech language pathology.
To provide information and experiences in multicultural, ethnic, and social issues that foster the students' abilities to serve a diverse clientele.
To facilitate student understanding of hearing, speech, and language development and disorders across the life span.
To create intellectual excitement, curiosity, and student involvement in research activities and encourage application of research evidence into everyday clinical practice.
Communication Disorders Clinic
   → Communication Disorders Clinic
All students pay in-state tuition
Minot State University (North Dakota) is making it affordable for any student in the world to receive a top-notch education from one of the premiere universities in the Great Plains. Whether you're from Texas, China, Washington, Colorado, Saskatchewan, Manitoba, Norway or Alberta, you will pay the North Dakota in-state tuition rate when you enroll in on-campus courses.
   → Read more about MSU's new tuition model
Contact Us
Ann Beste-Guldborg, Chair
   → ann.beste.guldborg@minotstateu.edu
Ms. Diane Pierson, Dept. Secretary
   → diane.pierson@minotstateu.edu
Memorial 116
500 University Avenue West
Minot, ND 58707
701-858-3031 or 1-800-777-0750