Cyril Moore Science Center
CMSC Museum
Collections
The CMSC houses several excellent collections directly related to the natural history of the northern great plains. Collection areas include avian and mammalian osteological specimens, insects, Several thousand bird egg specimens, an extensive herbarium collection, and fluid preserved biological specimens. The CMSC has also started to preserve and hold specimens of stretched bird wings.
The collections held by the CMSC Museum are available by appointment to visiting researchers and other interested individuals or groups.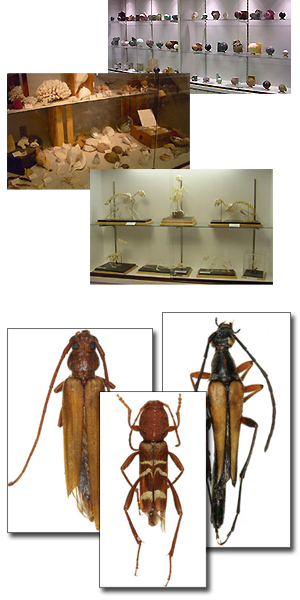 Exhibits
The Cyril Moore Science Center has many displays throughout the halls of the science building, including exhibits of both natural history and scientific research currently underway in the Division of Science. Exhibits include an Ordovician fossil display, with thanks to AUGITE for procurement of specimens, several mineral and rock sphere collection displays donated by Helen and the late Dr. William Hurly, a saltwater aquarium, and many taxidermy mounts of regional bird species.
Research projects on display include both student and faculty research. The CMSC is open for viewing September through May during normal school hours of 8am to 4 pm.
Research
Mr. Guy Hanley's research involves faunal studies of North Dakota and Great Plains coleoptera. So what does this mean? Most of his work is done collecting new specimens and comparing them to various museum collections throughout the state in order to gain an understanding of what beetles currently call North Dakota home. The final products from his research are field guides that can be used by both professionals and non-entomologists to identify different species. For example, up until 2005 there were a total of 78 known species of cerambycids, or longhorn beetles, on record as having been found in North Dakota. Guy's new cerambycid guide has increased the known species count to 87, with two more species discovered since the publication of his guide in June 2005. The images below represent some of the species new to North Dakota.
One problem with producing publications is acquiring high quality images that can be used in print form to identify particular species. Insects, especially small forms, are difficult to photograph clearly because of focal issues. The depth of field at high magnification can be less than a millimeter. This together with a three dimensional object being photographed can lead to blurry imaging in some part of the insect. These images were taken with a Cannon 10D digital SLR with a 100mm macro lens. Sharp imaging throughout the depth of the insect was achieved on a modified copy stand with a strong external flash system and a high F-stop setting on the camera.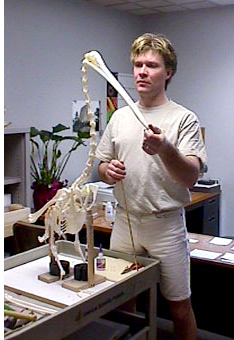 Curation

Guy A. Hanley, Assistant Professor
B.A., Geology, Art, Minot State University, 1994
M.A., Museum Science, University of Nebraska, Lincoln, 1997

Guy Hanley, assistant professor / curator of collections, specializes in scientific collections curation and management. Besides caring for the numerous collections held by the CMSC, he also develops all exhibits in the CMSC museum, provides technical support for the Division of Science, and teaches in the geology department.
Guy's research projects include faunal studies of Great Plains and South American Coleoptera, skeletal preparation methods, and digital imaging techniques for use in scientific publication. Guy worked extensively with Dr. Ron Royer, providing all prepared butterfly specimen images in digital format for the second edition of the "Butterflies of North Dakota." and has authored two science monographs for the Division of Science titled "Cerambycidae of North Dakota", and the "Carrion beetles of North Dakota" Cerambycid beetles are commonly known as "longhorn" beetles because of their greatly elongated antennae, and are of economic importance because of their association with forests and the lumber industry. Guy's research discovered nine new state species records and multiple new county distribution records. Carrion beetles in the family Silphidae aid in the processing of animal carcasses back into raw environmental materials. The guide includes identification keys for the entire North American silphid beetle fauna.
Links
These are some good links to various pages dealing with natural history collections and specimen identification keys.