MSU Concert Choir in Norway: 2019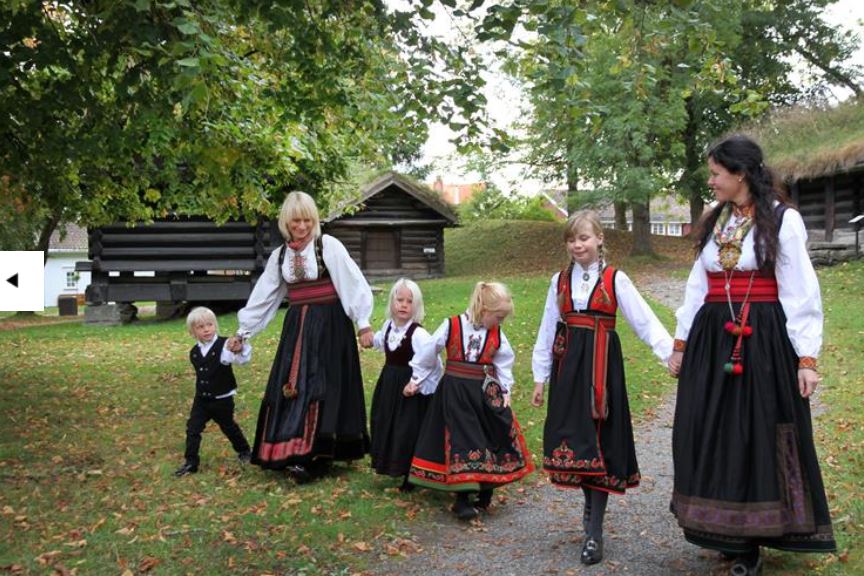 Welcome
MSU music students and alumni have the once-in-a lifetime opportunity to explore Norway on this special choir program May 13 - 25, 2019!

Norway is a top destination for any world traveler because of the country's breathtaking mountainscapes, friendly locals and fascinating ancient history. Norway contains a wide range of attractions from the vibrant contemporary art and theater scenes of Oslo to the coziness of remote fishing villages.
In addition to exploring this beautiful and inspiring country, MSU music students have the rare opportunity to benefit from rich connections between Minot and our Norwegian sister city, Skien. The sister city relationship began in 1981 when Norsk Høstfest founder Chester Reiten approached Skien officials because of the common heritage and similarities between the two cities. The resulting three-decades long sister city relationship has broadened horizons and increased connections for residents in both countries even since.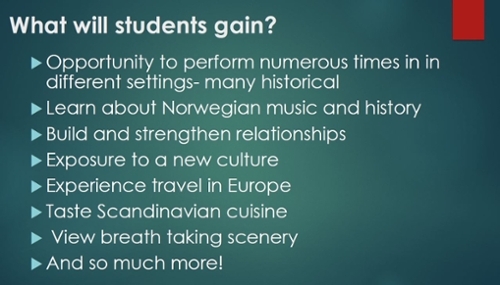 Location
The majority of the program will take place in Telemark County. Telemark is nestled in the mountains of southern Norway. It is a beautiful area covered by alpine forests, rolling hills and crystal clear waterways. The region is often described as 'little Norway' with its glittering archipelagos and magnificent mountainscapes. Life in the region offers an exciting mix of diverse scenery, rich culture, and kind-hearted people. In other words, Telemark is the ideal spot for MSU students to discover Norway!
---
Program Itinerary and Highlights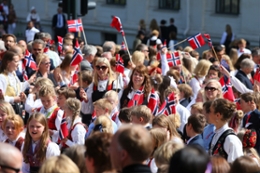 The program's customized itinerary has been tailored specifically for the MSU choir. Most of the activities have been coordinated and sponsored by partner organizations in Telemark County, including: the University College of Southeast Norway (one of MSU's partner schools since 2007), the Skien city council, and the Telemark County council.

While in Norway, the MSU choir will perform in a variety of venues, including historical stages and world-famous contemporary musical centers. Participants on this program will learn about numerous musical traditions, including Norwegian folk music, classical choral arrangements, and modern blues and jazz. The schedule also includes museums dedicated to Norwegian history and culture, important architectural and heritage sites, and will encourage unique culinary experiences.
Monday, May 13: Depart from Minot.
Tuesday, May 14:  Arrive in Skien-Minot's Sister City in Telemark, Norway.

Wednesday, May 15: Skien High School: master class & joint performance.

Thursday, May 16: Rehearsals with Skien orchestra and choirs. 
Friday, May 17: Syttende Mai (Norwegian Constitution Day)
MSU music students have been graciously been invited by Skien city council to participate in the official city celebrations. Morning: watch the Children's parade. Mid-morning: sing Norwegian national anthems at the opening ceremony of the official Syttende Mai celebrations in Skien. Afternoon: Walk in the Syttende Mai parade as guests of Skien city council concert in Brekkeparken.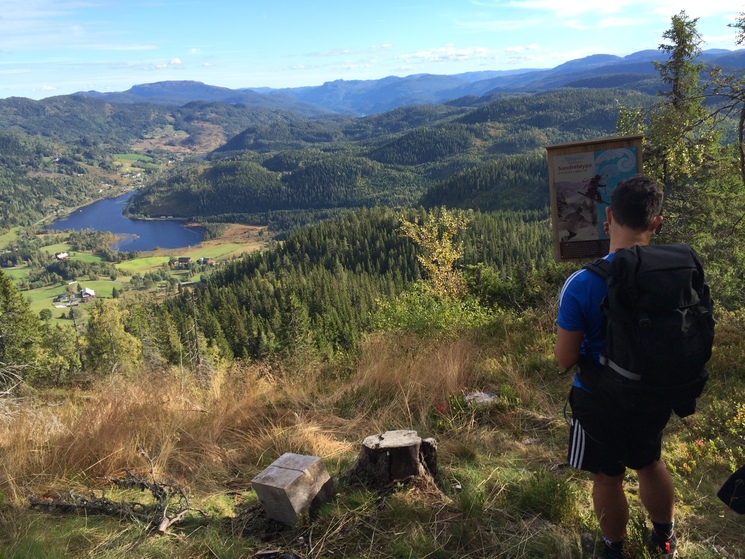 Saturday, May 18: Langesund Fjord. A joint concert with a men's Shanty Choir then a sightseeing by boating near the fjord.

Sunday, May 19: Sing at Skien Cathedral during morning service. In the afternoon, visit the Norsk Ski Adventure Museum in Morgedal en route to Rauland.

Monday, May 20: Rauland- University College of Southeast Norway campus has been an MSU partner institute since 2007. Morning: educational lecture on Norwegian Folk Art and Culture and Norwegian Ethnomusicology. Afternoon: sightseeing activity in Rjukan (possibly the WWII industrial museum, an UNESCO World Heritage site).
Tuesday, May 21: Notodden. The city is known as the blues and jazz capital of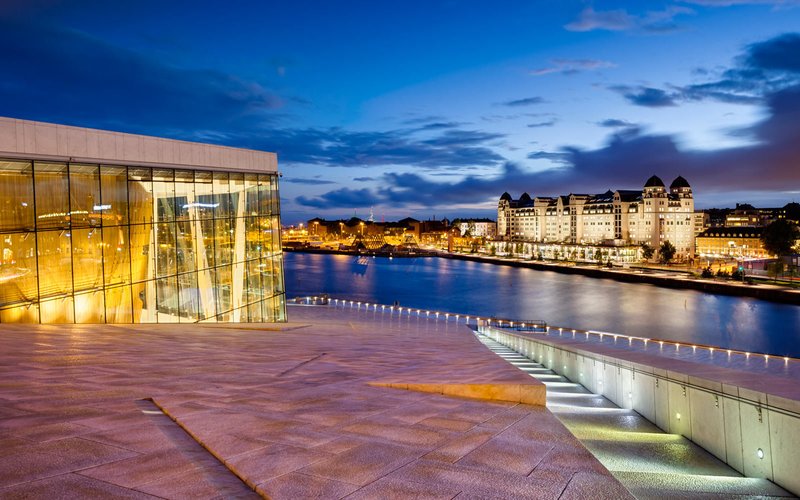 Europe. There will be a planned musical activity or performance for local high school and university students. The group will also visit the famous Heddal Stave church.
Wednesday, May 22: Notodden. Participants will have recording time in the Notodden Blues Center's music studio, and will come back with a CD souvenir of the experience. 
Thursday, May 23 and Friday, May 24: Travel to Oslo. Guided tour of the Oslo Opera and Ballet house. Sightseeing to include a visit to Vigeland sculpture park, the Viking Ship Museum, and the Norwegian Folk Museum of Oslo, where the original Gol Stave Church is located (a replica of which is found at the Scandinavian Heritage Park in Minot).
Friday, May 25: Return to Minot.
Tour Agency Information: The logistical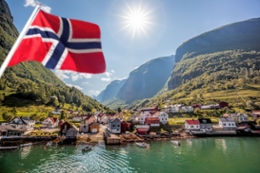 aspects of this program are being facilitated by Brekke Tours and Travel based out of Grand Forks, ND: www.brekketours.com. Where there is a discrepancy, MSU program rules, cancellation and refund policies override Brekke Tours policies.
---
Application Deadlines:  Download an application here!

Priority Registration: May 11, 2018  (current MSU students)

Late Registration: September 14, 2018  (new MSU students who start in fall 2018, & alumni)

Applicants who sign up for the program after September 14, 2018 are not guaranteed a spot and might be required to pay slightly higher program fee due to cost fluctuations.
---
Program Fees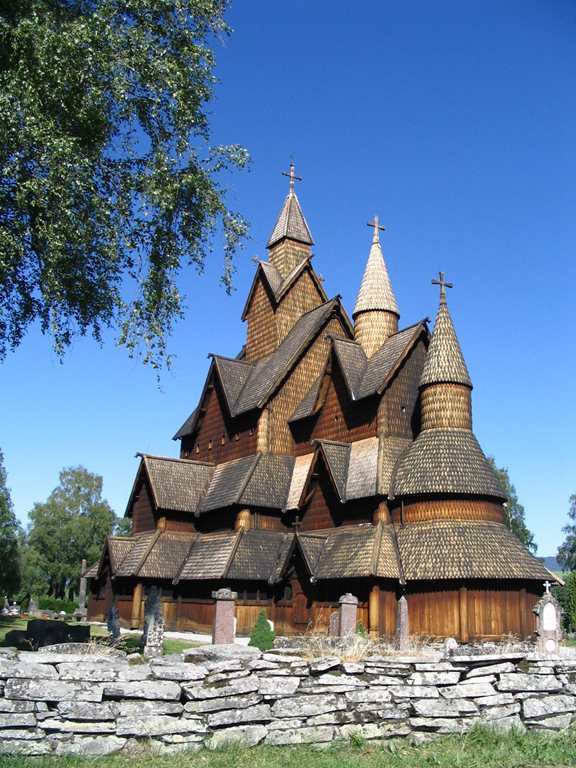 The program includes round-trip international airfare and transportation within Norway, breakfast and dinners on most days, accommodations, sightseeing fees, local guides, and a 24-hour tour director. Accommodations are double occupancy. Inquire with the Director of International programs if you would like to request the option of single occupancy lodging for an additional cost.
Items not included in the program fee are: some lunches and dinners, transportation for free-time activities, departure fees (i.e. airline luggage fees) and customary gratuities.
A typical day will involve an active itinerary of perfomances, sightseeing and cultural excursions starting early in the morning and lasting all day. The itinerary will be fast paced at times so that you get the most of your short time in Norway.
Program Cost
Base Program Fee*
$4,350
Tuition - 1 undergrad credit (approximate)
$   285
TOTAL
$4,635

* Note that the program fee is an estimate and subject to availability. The tour price is based on a minimum of 25 participants. The trip will be feasible with fewer than the minimum, but if the minimum number of participants is not reached, the price may increase or services may be modified to accommodate a smaller group. All rates are based on tariffs in effect at the time the tour was planned and are subject to increase in the event of currency fluctuation.
There is an additional cost for mandatory international medical and emergency insurance for travelers over 30 years of age:
Applicants aged 31- 40 years at time of travel, add $40 to base program cost.
Applicants aged 41 – 50 years at time of travel, add $50 to base program cost.
Applicants aged 51 – 60 years at time of travel, add $165 to base program cost.
Applicants age 61 and above at time of travel, add $285 to base program cost.  
---
Payment Deadlines:
$300 Non-refundable deposit due with the application

July 6, 2018:  $350
September 14, 2018: $1,000
December 4, 2018: $1,000
February 1, 2019: Remaining balance of the program fee is due. This amount will be calculated after group fundraising activities are concluded.
June 1, 2019: Tuition due to MSU cashier's window.
---
Financial Aid
Financial Aid can be applied to cover study tour fees, so students might want to consider the possibility of obtaining Financial Aid (generally including loans) to assist in funding their program. For more information about this option, please visit the Financial Aid Office, call (701) 858-3375 or visit their website: www.minotstateu.edu/finaid 
In order to be eligible for summer term financial aid, students must be enrolled in a minimum of 6 summer credits. At least 1 of these credits must be from the study tour course.
---
Contact us for more information!
→ Learn more about Horizons Unlimited faculty-led study tours
Page last updated August 28, 2018