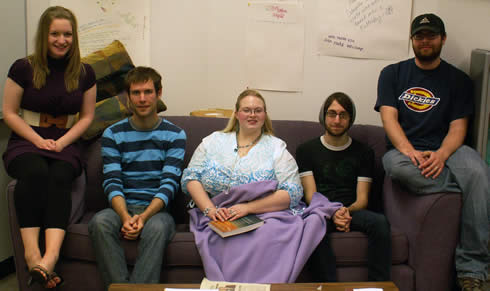 The Writing Center
About Us
Location: Lower Level, Gordon Olson Library
Phone: 858-3060
Director: Dr. Patti Kurtz, Associate Professor
Got a paper assignment?
Having trouble coming up with an idea?
Not sure if your draft makes any sense?
Visit the MSU Writing Center
Our experienced tutors are ready to help you with all of your writing worries.
How to Make an Appointment:
Visit our on line appointment service WC On Line.

Create an account by clicking on the "register" link, After you create an account, log in.
Once you log in, click on any white space in the calendar to make an appointment to see a tutor face to face

Can't make our face to face hours?  We have e tutoring available as well.

(NOTE: Please allow AT LEAST  3 business days for a response.  We do not work weekends.  Please submit early!)

|   | Monday | Tuesday | Wednesday | Thursday | Friday |
| --- | --- | --- | --- | --- | --- |
|   |   |   |   |   |   |
| 8:00 |   |   |   |   |   |
| 8:30 |   | |   |   |   |
| 9:00 |   | |   |   |   |
| 9:30 |    |   |   |   |   |
| 10:00 | OPEN |   | OPEN | | OPEN |
| 10:30 | OPEN |   | OPEN |   | OPEN |
| 11:00 | OPEN |   | OPEN |   | OPEN |
| 11:30 |  OPEN |    |  OPEN |   |  OPEN |
| 12:00 | OPEN | OPEN  | OPEN | OPEN |  OPEN |
| 12:30 | OPEN | OPEN | OPEN | OPEN |  OPEN |
| 1:00 | OPEN | OPEN | OPEN | OPEN |  OPEN |
| 1:30 | OPEN | OPEN | OPEN | OPEN | OPEN |
| 2:00 | OPEN | OPEN | OPEN | OPEN |   |
| 2:30 | OPEN | OPEN |  OPEN | OPEN |   |
| 3:00 | OPEN | OPEN |  OPEN |  OPEN |   |
| 3:30 |   | OPEN |  OPEN |  OPEN |   |
| 4:00 | | OPEN | OPEN | OPEN |   |
| 4:30 | | OPEN | OPEN | OPEN |   |
| 5:00 |   |   OPEN | OPEN | OPEN |   |
| 5:30 |   |   |   |   |   |
| 6:00 |    | OPEN |   | OPEN |   |
| 6:30 |    | OPEN |   | OPEN |   |
| 7:00 |   | OPEN  |   | OPEN |   |
| 7:30 |   | OPEN  |   | OPEN |    |
| 8:00 |   | OPEN |   | OPEN |   |
| 8:30 | | OPEN |   | OPEN |   |