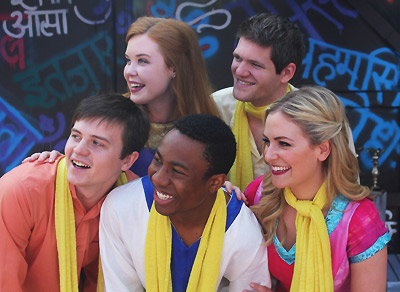 Theatre Arts Program
Summer Theatre - Season 52
| | |
| --- | --- |
| | June 12 - 16 |
| | June 20 - 22 |
| | June 27 - July 3 |
| | July 10 - 16 |
All performances begin at 8:30 p.m.
Box Office opens at 7:30 p.m.
» Cast Lists for Summer Theatre Season 52
Tickets:
$15 - Adults
$10 - Seniors, Active Military, MSU Faculty, Staff and Summer Students with Current MSU ID
$5 - all youth 18 and under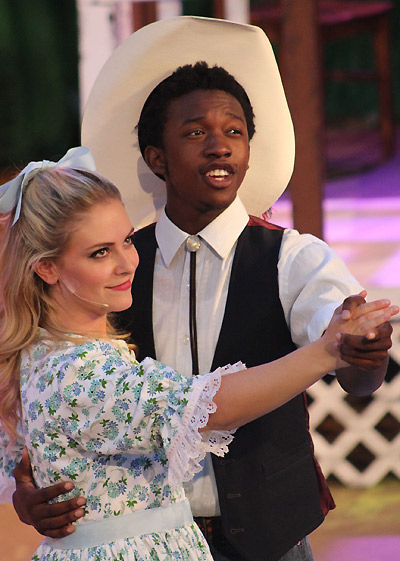 Reservations begin June 1, call (701) 858-3228
The Theatre
The Minot State University Amphitheater has been the home of the MSU Summer Theatre Company since 1971. This beautiful outdoor theater is set in a grass-lined hillside north of the campus. A stage above the rest from the top of the hill!
Contact:
Chad Gifford, Artistic Director
Dr. Aili Smith, Managing Director
---
June 12-16
A Midsummer Night's Dream
Book by William Shakspeare
Re-envisioned and directed by Dr. Aili Smith
"Are you sure that we are awake? It seems to me that yet we sleep, we dream." These are the words of the infamous William Shakespeare from A Midsummer Night's Dream . In one magical night, you'll find lovers, fairies, a donkey and more in this wild adventure! You'll wonder if someone put a spell on you! Come see this reimagined, playful, fun for all ages, romantic comedy that brings Shakespeare's creative characters to life! It is for the young and the young at heart!
June 20-22
Alice in Wonderland
Story by Lewis Carroll; adapted for the stage by Sharon Holland
Music composed by Victor Zupanc
Directed by Kena Davidson
Brought to you by Plays for Young Audiences

"Why, sometimes I've believed as many as six impossible things before breakfast." The impossible becomes the possible in Lewis Carroll's Alice in Wonderland ! The kids of Make a Scene Kids will delight both the young and young at heart with this fantastical adventure! If you happen to be the "curious" type, you'll experience a world of imagination with Alice as she goes down the rabbit hole and finds characters and adventures of all types. Don't forget to bring your hat for the tea party!
June 27-July 3
The Wizard of Oz
Book by L. Frank Baum
Music and Lyrics by Harold Arlen and E. Y. Harburg
Background Music by Herbert Stothart
Directed by Michelle Spencer Davidson
Dance and Vocal Arrangements by Peter Howard
Orchestration by Larry Wilcox
Adapted by John Kane for the Royal Shakespeare Company
"Lions and Tigers and Bears! Oh my!" You'll see that and much more in the award-winning musical adventure, The Wizard of Oz ! Come travel down the Yellow Brick road with Dorothy, Toto and their friends, the Scarecrow, Tinman, and the Cowardly Lion! You may just get to meet a flying monkey!
Book by Chris D'Arienzo
Music by various
Lyrics by various
Directed by Chad Gifford

"Get ready to rock!" Relive some of your favorite 80s songs that will be sure to make you want to get up and dance (or if you're not the dancing type, you won't resist the temptation of tapping your feet)! Rock of Ages is an award-nominated rock & roll fairy-tale that features the hits of bands including Night Ranger, REO Speedwagon, Pat Benatar, Bon Jovi, and more!
---
Past seasons
→ Season 51
→ Season 50
→ Season 49
→ Season 48
→ Season 47
→ Season 46
→ Season 45
→ Season 44
→ Season 43
→ Season 42