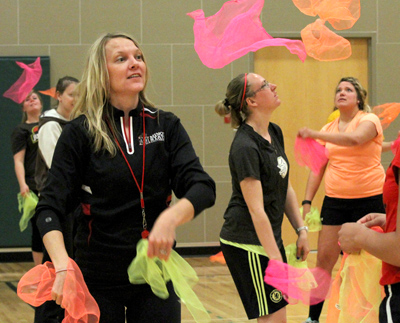 Physical education teachers instruct students about sports, physical development, health and proper nutrition. They show students not only how to play various sports, but also how physical activity benefits overall health.
Physical Education
Degree options
The teaching degree offered by Minot State University is a Bachelor of Science in Education with a major in Physical Education. Other options include:
Minor in physical education
Minor in coaching
Concentration in driver and traffic safety
» Catalog Information
(required course and descriptions)
Right for you?
Teaching is both rewarding and challenging. Physical education teachers need to be physically fit and active, have good communication skills, and be able to effectively manage the learning environment while making sure students are having fun;learning fitness and health concepts, lifetime fitness activities, movement and sport skills. PE teachers who coach school sports, often earn additional money for their responsibilities.
Student teaching
All physical education students are required to complete 16 weeks of student teaching. As a student teacher you'll be responsible, as much as is appropriate, for the cooperating teacher's entire class load.
Employment outlook
Employment opportunities are expected to grow about as fast as average for most occupations in the coming decade.
Coursework
General education requirements prepare students to apply to the Teacher Education Program and take CASE tests.
Selected core classes prepare you with teaching methods for lifetime fitness, leisure and recreation, fitness and weight training, sport activity, and adaptive physical education. You will also be trained in curriculum planning and assessment, nutrition, kinesiology, physiology of exercise, educational psychology, organization and administration of PE and athletics,and assessment of health and skill related components of physical fitness.
Professional education sequence prepares you for elementary and secondary methods and activities, technology in teaching, managing the learning environment, teaching diverse learners.
Admission requirements
Teacher education programs are selective. Admission requirements include:
Minimum GPA of 2.75 overall
20 hours of documented, supervised activities with children
References from two former teachers and your department
Passing scores on pre-professional skills tests in reading, writing and math
Teacher Education and Kinesiology
Our well-qualified instructors are sought after for their scholarly expertise and their contributions to the community. We provide the academic training and field experience you will need for a career as a physical education teacher.
Contact Information
Terry Eckmann, Ph. D.
Professor and Coordinator for Physical Education
Department of Teacher Education and Kinesiology
Phone: 701-858-3155 or 1-800-777-0750 ext. 3155
Terry.Eckmann@minotstateu.edu