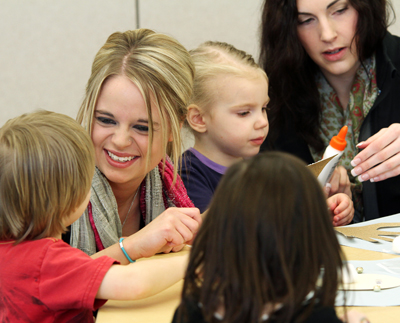 Minot State University's Elementary Education graduates are known throughout the nation for their abilities and dedication.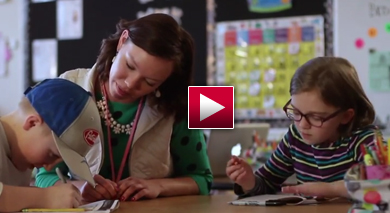 Elementary Education
What prospective and transfer students should know
We offer small class sizes with several classroom experiences.
Faculty are mentors and teachers, and are readily available.
You will earn your degree at affordable price.
We help with advising and field placement.
Elementary teachers are in high demand.
Starting salary for teachers in the region is $30,000-$45,000.
Teaching is a career built around a flexible family schedule.
Active learning 
Our program is particularly strong because starting with your first semester at Minot State you will enroll in education classes, which provide the chance to visit classrooms. Throughout your time at Minot State you will work with elementary-age students every year so you are prepared for student teaching. Elementary education faculty encourage active participation in discussions, hands-on learning, and simulations. We do more than lecture.
Our learning environment
Our elementary education program is located in the spacious Swain Hall. We think you'll like what it features:
Child-friendly classrooms
Relaxing and spacious atriums for studying and collaborating
Rooms for individual tutoring of school-age children
Coursework and specializations
All education majors take the same core classes in the program, and elementary education majors take a broad range of classes to prepare them for the diverse areas of elementary teaching. The most common concentrations are kindergarten, middle school, and reading.
After you've taught a few years, we invite you to return to Minot State for a Masters of Education with several concentrations available.
Coursework for elementary education
MSU's elementary education program is aligned with the Education Standards and Practices Board of North Dakota elementary education teaching license for the grades 1-6.
» View a full description of the coursework.
Those who wish to teach Kindergarten must add the Kindergarten endorsement to teach K-6.
Those who wish to teach middle school (grades 7-8) must add the middle school endorsement and a concentration of 24 credits in the subject area in which they wish to teach.
Do you have what it takes?
The best elementary education teachers like working with young children, have a command of the content they teach, are good at explaining things, have a sense of humor, are fair-minded, know how to manage their time, and how to keep their cool.
Contact Information
Dr. Kathy Hintz, Coordinator of Elementary Education
Department of Teacher Education and Kinesiology
Phone: 701-858-3572 or 1-800-777-0750 ext. 3572
kathy.hintz@minotstateu.edu