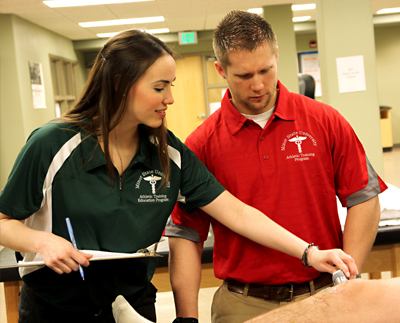 The B.S. in Corporate Fitness offers a wide and diverse range of job opportunities within fitness, exercise, health, wellness, nutrition and rehabilitation.
Corporate Fitness and Wellness Management
Practicum/Internship
Every corporate fitness major is required to apply his or her classroom knowledge to a real world setting by completing a practicum (internship). Employers or students may initiate the practicum. Often practicum experiences lead to offers of employment.
Career outlook
As businesses and insurance organizations continue to recognize the benefits of employee health and fitness programs, employment for exercise/fitness trainers is expected to grow faster than the majority of other occupations through 2020. MSU Corporate Fitness graduates and former students have or are currently employed as:
President of ANYTIME FITNESS, LLC – over 1,400 fitness center locations located in 10 different countries worldwide
Exercise physiologists in hospital cardiac rehab programs
University educators
Exercise physiologist working with individuals with physical and mental disabilities
Hospital wellness/fitness program director/personal trainers
Sports performance enhancement program owner & director
Strength & conditioning coaches
College GAs in exercise science, strength and conditioning programs and nutrition research programs
Graduate programs in physical therapy
Private business corporation fitness/wellness program directors
Professional sports team marketing and promotions directors
Check out a snapshot of Corporate Fitness and Wellness Management!
https://www.minotstateu.edu/videos/
Is corporate fitness and wellness management right for you?
Successful exercise/fitness trainers are good listeners, able to keep clients mo¬tivated, are physically fit, have excellent speaking skills, and can evaluate clients' needs and skill levels and create appropriate fitness plans for them.
» Catalog Information (required course and descriptions)
Facilities
Completed in 2012, the Minot State University Wellness Center features a rock climbing wall, cardio exercise equipment, weight rooms and exercise studios where classes are offered in everything from yoga to kickboxing.
Corporate fitness/exercise trainers lead, instruct, and motivate individuals or groups in exercise activities, including cardiovascular exercise, strength training, and stretching in a corporate or business setting.
Teacher Education and Kinesiology
Our well-qualified instructors are sought after for their scholarly expertise and their contributions to the community. We provide the academic training and field experience you'll need for a career in corporate fitness.
College of Education and Health Sciences
Minot State University's College of Education and Health Sciences is internationally known for preparing quality professionals and pre-professionals in health science, human service and education. Our facilities are equipped with state-of-the-art technology. Please contact us for more information. Better yet, plan a campus visit so we can arrange a tour and meet face-to-face.
Contact Information
Terry Eckmann
Professor and Chair,
Department of Teacher Education and Kinesiology
Phone: 701-858-3155 or 1-800-777-0750 ext. 3155
terry.eckmann@minotstateu.edu