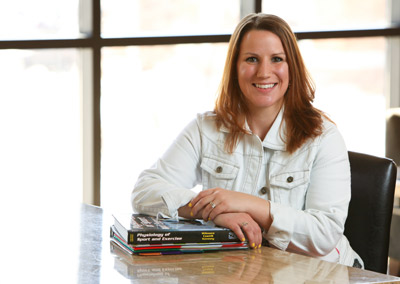 Department Information
The Teacher Education and Kinesiology Mission
The Department of Teacher Education & Kinesiology is responsible for:
the required pedagogy courses for all teaching majors;
the preparation of Elementary teachers;
the preparation of Physical Education teachers; and
the preparation of Corporate Fitness Majors.
The department also has responsibility for the operation of the teacher advisement and Field Placement Office, which handles group advising relative to Teacher Education and coordinates practicum and student teaching placements.
Teacher Education at Minot State University, in its graduate and undergraduate programs, prepares teachers who will be reflective decision-makers. Decision-making builds from a knowledge base. From that base, teachers are able to draw conclusions, make inferences, internalize concepts, and act. Our mission is to provide opportunities for students to acquire the knowledge, skills, attitudes, and behaviors that will allow them to deliver optimum learning experiences for diverse pupils in changing classroom environments.
The Department of Teacher Education and Kinesiology emphasizes the role of the teacher as reflective decision-maker through a conceptual model which emphasizes action, a reflection, and knowledge (ARK). Through course work and field experiences the student builds knowledge around specific discipline content and around best pedagogical practices, providing a basis for reflection and action.
The Teacher Education and Kinesiology Objectives
To provide a comprehensive teacher training program in elementary and secondary education.
To prepare competent teachers who are involved in acting and reflecting on the pedagogical and content knowledge they have acquired.
To provide specialized training in reading, early childhood education, and middle school.
To provide opportunity for certification in Water Safety Instruction (WSI), Cardio-Pulmonary Resuscitation (CPR), and Hunter Education.
To provide a sound foundation for graduate studies in education.
To develop skills and knowledge that aid in developing a personal, lifetime wellness concept.
To provide a program to meet the needs of students seeking employment opportunities in hospital wellness centers, sports medicine departments, community sport and fitness clubs, and corporate fitness settings.
To provide courses that fulfill the general education requirements and provide university students with the chance to develop life long activity opportunities.
The Teacher Education Program is Accredited by:


» View the 2010 NCATE Accreditation Reports
» View the 2006 NCATE Accreditation Reports
» View the 2004 NCATE Accreditation Reports
Kinesiology Announcements
» Certifying Organizations
» AAHPERD - Primary Source and Links for Physical Education Students
» ideafit.com - Membership organization for health and fitness professionals
» ACE - American Council on Exercise
Student Organizations
SNDU - Students North Dakota United
MSCOPE - Minot State Club of Physical Educators