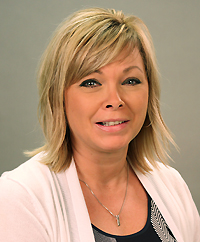 Mrs. Heather Lee
Instructor
Office: Memorial 210H
Email: heather.lee@minotstateu.edu
Phone: 858-4248

Heather Lee has a Bachelor of Science in Intellectual Developmental Disabilities and a Master of Science in Early Childhood Special Education both from Minot State University. She is a certified graduate of The Program for Infant Toddler Care from WestEd and the California Department of Education. As a faculty member in the Department of Special Education at Minot State University, Heather is responsible for teaching undergraduate and graduate level coursework in Special Education.
Heather's professional career consists of a variety of positions assisting individuals with disabilities during the past twenty-five years. While working for the North Dakota Department of Public Instruction, Special Education Unit, Heather managed a Multi-Tiered System of Support Project funded through the State Personnel Development Grant.  Additional duties were compliance monitoring and technical assistance, committee member for the guidelines Using RTI for LD Identification, and provide training and technical assistance. She displayed expertise in the areas of collaboration, coaching, literacy, inclusive best practices and evidence-based strategies while managing the Early Reading First Program, funded to the North Dakota Department of Public Instruction. As a Research Associate at the North Dakota Center for Persons with Disabilities, Heather gained knowledge and expertise in research, grant/report writing, training development, technical assistance, web development, marketing/promotional development. As a consultant for Childcare Resource and Referral, she provided educational resources, onsite assessments and helpful strategies to providers who served children with special health, behavioral, and developmental needs. She has held positions in direct support and program management for community-based service providers for persons with intellectual and developmental disabilities. She has taught children receiving special education services in an early childhood classroom setting.
Heather has volunteered for social and community programs that support children and adults with disabilities such as Special Olympics and Second Story. She has professional affiliation with the National Association of Young Children (NAEYC).