MSU hosts 29th Annual Spring Honor Dance and Powwow Celebration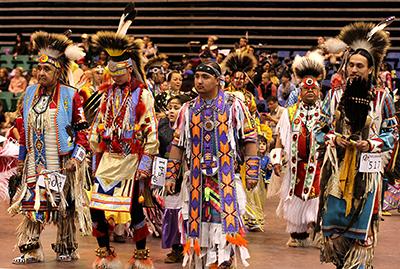 "Come out and enjoy our food, dance, and culture while honoring our Native American graduates."
Helaman Hale, MSU Native American Cultural Awareness club president
The 29th Annual Spring Honor Dance and Powwow Celebration will be April 27-28, 11 a.m.-10 p.m., in the Dome.
On April 27, from 9:30 a.m. to 11 a.m., there will be an educational opportunity to learn more about the history of the Powwow, and Powwow activities such as dancing and drumming. 
On April 28 there will be a free supper at 5 p.m., followed by the grand entry at 7 p.m., and at 8 p.m. there will be a ceremony to honor the 2018 graduates.
"Come out and enjoy our food, dance, and culture while honoring our Native American graduates," MSU Native American Cultural Awareness club president Helaman Hale said.
Admission is $3 for ages 12-55, elders are free; MSU students, faculty and staff with current ID are free. For more information, see the ATTACHED brochure.
About Minot State University
Minot State University is a public university dedicated to excellence in education, scholarship, and community engagement achieved through rigorous academic experiences, active learning environments, commitment to public service, and a vibrant campus life.
---