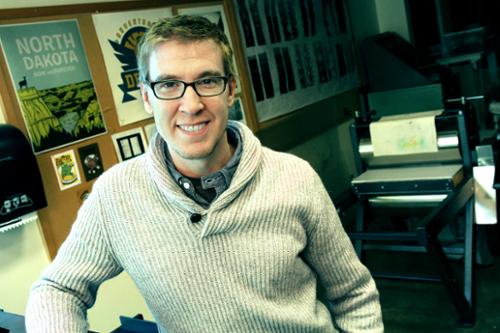 University Communications
Ryan Stander receives NDCA fellowship
Ryan Stander, assistant professor of art at Minot State University, has been awarded an Individual Artist Fellowship for $2,500 from the North Dakota Council on the Arts. The Individual Artist Fellowship program recognizes and enables practicing North Dakota artists to improve their artistic skills and enhance their career opportunities.
"The funding will help me revive a series of work that I set aside after my second year of graduate school. I plan to rework the alternative photo processes on wood as a means of transition from one body of work into another," Stander said. "At the time in grad school, the work had some good successes, but since then, it has largely been dormant. The fellowship will allow me to pick up these experiments and expand upon them. I am so thankful to NDCA for its commitment and generosity toward artists in general, but also to me in particular for seeing the potential of this work."

While attending the University of North Dakota, Stander began experimenting with forms of alternative photographic processes like the cyanotype and Ziatype. With an interest in ideas of memory and place, the antiquated printing processes seemed a natural fit. He began making increasingly experimental pieces, moving from the standard cotton-based papers toward ephemeral Asian papers, as well as an opposite trajectory of wood panels. Since his graduate school experiments, many new digital coating polymers for printing have been developed, which will be tested. Expanding upon these processes will greatly expand Ryan's repertoire as an artist and extend the life of this current body of work while shifting it into a new and exciting direction.
As a requirement of the fellowship, any newly created work will be made public through exhibits in multiple parts of the state in the coming years. Two of these venues may be the North Dakota Art Galley Association for a touring exhibit and Minot State's Northwest Art Center. For questions, contact Stander at ryan.stander@minotstateu.edu.


---