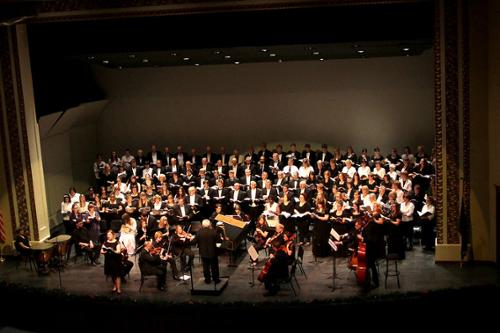 Public Information Office
MSU, Minot Sertoma and MACF update Nelson Hall to help individuals with hearing impairments
With Minot State University's endorsement and matching funding from the Minot Area Community Foundation, the Minot Sertoma Club contracted to install induction looping in Ann Nicole Nelson Hall to make events more enjoyable for all those wearing hearing aids and cochlear implants. The work was completed June 19. To assist with funding this project, the Minot Sertoma Club is conducting a Celebrate Sound Walk Thursday (June 25) at Duane Carlson Field from 5:30 to 8:30 p.m.
"The Americans with Disabilities Act has helped to remove the barriers that limit use of public facilities for those who cannot walk but has done little for those who cannot hear. For the millions of Americans using hearing assistive devices, the ability to hear in public facilities is limited. Yet all those sounds can be made clear by the simple act of installing an available, simple and cost effective technology — the  induction loop," said Neil Scharpe, North Dakota Center for Persons with Disabilities project administrator and Minot Sertoma Club secretary.
An induction loop wire is permanently installed (typically under a carpet or in the ceiling) and connects to a microphone used by a speaker. The person talking into the microphone generates a current in the wire, which creates an electromagnetic field in the room. When individuals switch their hearing aids to the "T" (telecoil) setting, their hearing aid telecoil picks up the electromagnetic signal. Individuals can then adjust the volume of the signal through their hearing aids. This technology magnetically transmits sound to hearing aids and cochlear implants with telecoils (T-coils), http://www.asha.org/public/hearing/Induction-Loop-Systems/.
All those with assistive hearing devices should contact their hearing professionals to assure their T-coils are installed and activated. This fall, the Sertomas are planning a performance in which all those with hearing aids will be invited, to attend free of charge, to experience what a difference looping can make.
Sertoma, derived from its mission of service to mankind, is a century-old international service club with a focus on hearing health. The Minot Sertoma Club has a 54-year history of emphasizing that mission in the Minot area, and the last remaining active charter member was the impetus of the project.
"The member has worn hearing aids for many years and recently received a cochlear implant," Scharpe said. "When asked if he liked attending performances at the Ann Nicole Nelson Hall, he said that he loves music, but he doesn't attend concerts because he would not be able to enjoy them because of his hearing limitations."
Anyone interested in walking or contributing to the Celebrate Sound Walk can go to www.celebratesound.org/minot. For questions, contact Scharpe at neil.scharpe@minotstateu.edu.


---