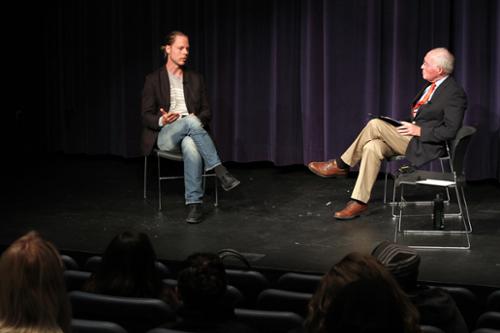 University Communications
MACIV welcomes Swedish journalist
The Minot Area Council for International Visitors developed local programming for Daniel Persson, an investigative reporter based in southern Sweden, as he visited the Minot region Oct. 5-8. Persson investigated the Bakken oil patch and discussed media careers with vocational school and Minot State University students.
Currently a 2015 Transatlantic Media Fellow with the Center for Strategic and International Studies in Washington, D.C., Persson is studying the influence of the American labor movement in the 21st century, and he also is investigating the role of consumerism in Americans' daily lives. He is focusing part of his research on the role of labor in entrepreneurial companies.
When Persson returns to Sweden in January, he will start in a new position as a reporter for Swedish National Radio. For more than 16 years, he has reported for newspapers and the Swedish News Agency TT. He has covered everything from politics to crime, sports and economic issues.
MACIV members accompanied Persson into the oil patch Oct. 6 so that he could understand energy development and its social and economic effects. He met with emergency, health and human services officials in Stanley.
Oct. 7, the visitor met with personnel and students at Quentin Burdick Job Corps Center and Minot State University to discuss careers in journalism and other media avenues. He also met with representatives from various labor unions to learn about the American labor movement in the 21th century.
"MACIV welcomes visitors from all over the world who are interested in many aspects of rural life. Comprised of members from Minot State University and the wider Minot community, MACIV has received extensive accolades from visitors for its hospitality, generosity and professional programs," said Joseph Jastrzembski, MACIV president. "An all-volunteer group, MACIV's members show a broad range of local, state, national and international experience in the professions, government, education and the arts."MACIV has been headquartered at Minot State since 1992.

For questions, contact Jastrzembski at joseph.jastrzembski@minotstateu.edu or 858-3322.


---