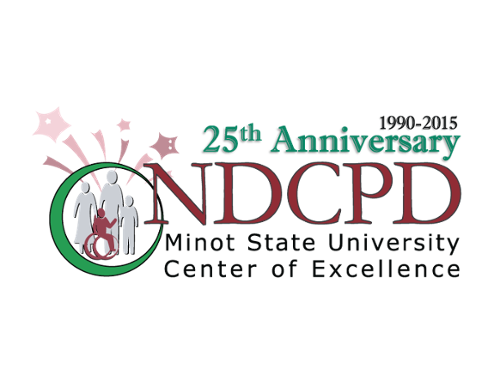 University Communications
Celebrating NDCPD's 25th anniversary
Oct. 1 marks the 25th anniversary of Minot State University's North Dakota Center for Persons with Disabilities. NDCPD faculty and staff provide training, information, dissemination and research to and for people with disabilities in North Dakota and beyond. To commemorate its 25 years of operation and October as Disability Awareness Month, NDCPD is hosting several events, which are free and open to the public.
Oct. 2 features the anniversary celebration's signature event, "Handicap This!" in Ann Nicole Nelson Hall from 10 to 11:30 a.m. Tim Wambach and Mike Berkson, two national speakers, talk about valuing inclusion, challenging bullying and celebrating the power of diversity. They met 20 years ago as a teacher (Wambach) and a student with cerebral palsy (Berkson). Over the years, they became great friends and took their story on the road. Their trailer is available for review on YouTube or on the website www.handicapthis.com. This event is free and open to the public, especially students, but an RSVP is required to Hilory Liccini, NDCPD research associate, at 858-3008 or Hilory.liccini@minotstateu.edu.
On Oct. 1 from 9 a.m. to 3 p.m. in the Student Center Atrium, NDCPD faculty and staff will coordinate a poster presentation about NDCPD projects and activities. In recognition of its partners and collaborations throughout the years, NDCPD will also host a dessert social in the Conference Center from 1 to 3 p.m. with an unveiling of a timeline video.
"NDCPD started as a small, eight-person center with three small projects. Twenty-five years later, NDCPD has nearly 35 projects annually with approximately 100 staff," said Brent Askvig, NDCPD executive director. "When NDCPD began in 1990, it was staffed by special education and communication disorders faculty. These faculty members went above and beyond their regular teaching assignments to write grant proposals and leverage funds to assure NDCPD was successful in becoming a University Center of Excellence on Developmental Disabilities."
The last Minot event will be NDCPD at the Mall on Oct. 3 at Dakota Square Mall from 11 a.m. to 2 p.m. NDCPD faculty and staff will share information about the center and its projects as well as displaying disability awareness activities. Throughout October, NDCPD faculty and staff will sponsor NDCPD at the Mall events in Bismarck, Grand Forks and Fargo. In addition, NDCPD will host socials in Fargo, Grand Forks, Bismarck, Williston and Dickinson to honor friends and colleagues and pay tribute to their association with NDCPD.
To learn more about NDCPD and the upcoming celebration, visit www.ndcpd.org. 
---