A NEWSLETTER FOR EMPLOYEES AND FRIENDS OF MINOT STATE UNIVERSITY
March 1, 2018
Next Issue: April 2, 2018
» View archived issues
---
Gov. Burgum gives State of the State at Ann Nicole Nelson Hall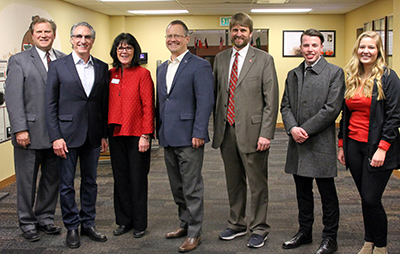 Gov. Doug Burgum addressed North Dakota in his first-ever State of the State Address in front of a standing room only audience at Minot State University's Ann Nicole Nelson Hall Tuesday, Jan. 23.
Burgum and Lt. Gov. Brent Sanford both spoke at the event, covering multiple topics throughout the state of North Dakota. It's the first non-legislative session address by a governor since 2002's State of the State by then Gov. John Hoeven.
The first-term governor, the state's 33rd overall, reflected on North Dakota's challenges and collective accomplishments during his first year in office.
Pictured are (from the left) MSU Vice President for Advancement Rick Hedberg, Gov. Doug Burgum, MSU Marketing Director Teresa Loftesnes, Lt. Gov. Brent Sanford, MSU President Steven Shirley, MSU Student Government Association President Aaron Richard, and MSU junior and Student Ambassador Breanna Wieler.
---
Minot State Foundation reports another record year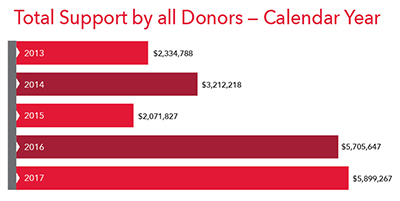 The Minot State University Foundation reported another record year in private support for the year ending Dec. 31, 2017, securing nearly $6 million in fundraising totals.
Minot State benefactors surpassed their record of $5,707,647 gifted in 2016 with a total of $5,904,266 in 2017. Each of the past two year's totals surpassed the combined total from 2015 and 2014. The record year in 2017 was made possible by multiple significant gifts from donors and was bolstered by $239,354 in state matching funds made available through the North Dakota Higher Education Challenge Fund.
The Minot State Foundation provided $1,708,849 to the university in 2017. These funds are comprised of spendable earnings from the Foundation's permanent endowment as well as private funds secured by the MSU Foundation in support of programs and student scholarships.
The Minot State Foundation's assets increased to $35,735,503 at the end of 2017, compared to $31,144,829 on Dec. 31, 2016.
---
Minot State DECA nabs six top finishes at state
Members of the Minot State University DECA Club won first place in six categories at the North Dakota State Conference in Fargo, Feb. 11-12. Altogether MSU placed in 12 categories with 13 students qualifying for the international conference later this year.
The final results were as follows: Nick Trumbauer, first place in accounting; Jordan Busch, fourth place in banking and financial services; Aaron Richard, first place, Brenda Parks, fourth place, and Haokun Yang, sixth place in fashion merchandising; Asia Pleasant, sixth place in human resource management; Paula Cabatingnan, fourth place in marketing; Barbara Marques, second place in restaurant and food service; Levy Cabatingnan and Paula Cabatingnan, first place in emerging technologies marketing strategies; Aaron Richard, first place in professional sales; Brenda Parks and Kaitlin Fredrich, second place in business to business marketing; Marina Carrillo and Tracey Slama, fourth place in business ethics; Edel Mae Alvarez and Jordan Busch, first place in financial statement analysis; Levy Cabatingnan and Paula Cabatingnan, first place, and Barbara Marques and Aaron Richard, second place in international marketing.
---
Minot State adds three criminal justice minors
Minot State University's criminal justice program bolstered its comprehensive degree with three new minors: police management and investigations, law and legal studies, and offenders, risk assessment and corrections.
The new programs materialized after the department assessed both the wants of the students and the industry.
The three minors will offer students who are in the criminal justice program avenues of concentration, but is also open across campus. There are currently 35 students enrolled in the minors and the first graduates in the programs will earn minors this fall.
---
Four nursing students elected to N.D. Nursing Student Association
Nursing students returned last week from the North Dakota Nursing Student Association in Dickinson. Four students were elected to the state board. Tyler Kroke was elected president, Nora Mihalick was elected second vice president, Jessica Hagen was elected publicity and communications director, and MSU alumna Laura Hellmuth was elected graduate consultant. NSAND is an association for students compared to the N.D. Nurses Association (NDNA) for licensed registered nurses.
---
English students selected to present at Sigma Tau Delta International Convention
Four MSU students will present their academic and creative works March 21-24 at the Sigma Tau Delta International Convention in Cincinnati, Ohio.
The works to be presented include: "Cerebra" by Martina Kranz, "A Lifetime of Races" by DeAndra Miller, "The Dystopian Influence on Postmodern Literature" by Adrianna Varbero, and "Free-Writing, Twofers, and Other Things" by Wyatt Olson.
The four students spent months working on their papers before submitting them last year for review.
The Sigma Tau Delta International Honor Society schedules a conference every year to celebrate the achievements of college writers. According to the Sigma Tau Delta website, there are currently 900 chapters located around the world, and 9,000 members inducted annually. 
---
Accounting students assist taxpayers through VITA
Minot State is again offering tax preparation services free of charge to individuals earning less than $52,000 a year, elderly individuals, military members, and tax payers with small businesses that meet certain guidelines, through the Volunteer Income Tax Assistance program.
VITA was originally created by the Internal Revenue Service to assist low-income tax payers in properly filling out and filing their tax forms.
All tax preparation work will be completed by fully-trained accounting students. This year nine MSU students are participating in the program.
Services are offered Mondays, from 3:30 to 7:30 p.m., and Saturdays, from 9 a.m. to 1 p.m., through Saturday, April 7. Appointments can be made by calling 701-858-3122.
---
MSU Campus Players honored with five certificates of merit
Ten Minot State University students participated at the Region 5 Kennedy Center American Theater Festival in Des Moines, Iowa, during the week of Jan. 21-26. The festival offers theatre students the opportunity to participate in workshops, productions, professional auditions, and acting, playwriting, and technical competitions.
Overall MSU was honored with five certificates of merit for past productions including for the spring 2017 production of "Student Body," director Kevin Neuharth and the cast for ensemble performance, and Maddie Thompson for sound design; for the spring 2017 production of "The Shape of Things," Branden Evans for lighting design, and Brenna Heupel for costume design; and for the fall 2017 production of "God of Carnage," EJ Rose for scenic design.
Dan Fagan received recognition for playwriting. Fagan's 10-minute play, "Meanwhile in the Rust Belt," was one of three finalists that received a staged reading, and his full-length play, "These Lonesome Roads," was chosen as a regional finalist and submitted for national competition.
Students Annika Kraft, Maddie Thompson, Eric Fetske, and Dan Fagan competed in the Irene Ryan acting competition. Fagan and his scene partner, J'Kobe Wallace, advanced to the semi-final round.
---
Anderson wins Minot Symphony Orchestra's Young Composers Competition
The Minot Symphony Orchestra (MSO) announced Minot State University senior Erik M. Anderson as the winner of its inaugural Young Composers Competition with his original composition, Prologue. Anderson's work will be featured at the March 10 Minot Symphony Orchestra concert at Ann Nicole Nelson Hall at Minot State. In addition to his work being performed, Anderson will also receive $500 cash prize and a recording of his piece.
The MSO Young Composers Competition was open to aspiring composers age 30 and under who were living or pursuing music studies in North Dakota, Minnesota, Montana, South Dakota, or Wyoming. Compositions were up to 10 minutes in duration composed for a symphony orchestra of traditional instrumentation not having been performed or read by a professional orchestra before submission. Applicants were judged on their originality, artistic promise, and score presentation by the renown composer John Stevens and MSO music director Efrain Amaya.
---
Supply donations needed for mission
Nursing instructor Renee Duncan and Student Health Center director Melissa Fettig, along with three MSU nursing students, are going on a mission trip to Croix des Bouquets, Haiti, March 9-15. They will represent Third World Missions based out of Nashville, Tenn. They are looking for donations of supplies which can be found on the attached list. attached. Supplies can be dropped off at the Student Health Center, the Department of Nursing, or in the bin outside of the Vice President for Student Affairs Office, Admin. 164.
---
In the galleries
"Art 50!" an exhibit featuring the work of 50 North Dakota artists and organized in celebration of the 50th anniversary of the North Dakota Council on the Arts, will open at the Northwest Arts Center's Walter Piehl Gallery at Minot State University, March 1.
The Northwest Arts Center will host an opening reception Tuesday, March 6, from 6:30 to 8 p.m. for MSU art department faculty as they present their biennial Art Faculty Exhibit. The reception and the exhibit will be on display through April 6 in the Walter Piehl Gallery in the lower level of the Gordon B. Olson Library. The exhibit includes prints, photography, mixed media, oil and acrylic paintings, sculpture, and ceramics. Participating artists are Micah Bloom, Andrea Donovan, Bill Harbort, Linda Olson, Doug Pfliger, Ryan Stander, Avis Veikley and Greg Vettel. The exhibit and reception are free and open to the public.
Minot State's Flat Tail Press Gallery will feature colored pencil drawings from highly-esteemed, long-time North Dakota artist, Brian Paulsen. Paulsen's work has been featured in more than 1400 juried national exhibits, 90 solo exhibits, and 250 invitational exhibits. Paulsen will speak at his exhibition, "Drawings, 2016," which opens March 2 at 12:30 p.m.
---
Achievements
Efrain Amaya, assistant professor and Minot Symphony Orchestra director, teamed with Alex Still and the Oberlin Conservatory faculty members and students to release a CD titled "Syzygy." The CD, recorded in Clonick Hall, Oberlin's recording studio, was released Jan. 26 and distributed by Naxos of America. It is available through digital music channels worldwide.
Maria Buchholz-Kerzmann, assistant professor of criminal justice, authored a chapter titled "Importation Model" that was accepted for publication in "Lockdown Nation:  An Encyclopedia of Controversies and Trends in American Prisons," edited by Vidisha B. Worley and Robert M. Worley.
Buchholz-Kerzmann published a journal article in Corrections: Policy, Practices and Research with the title "Blessings and curses: The impact of the North Dakota oil boom on offender reentry and reintegration into the community." 
She presented this research at the Academy of Criminal Justice Sciences conference in New Orleans, Feb. 15. 
MSU staff Melissa Cantone, Karen Elliott, and Brenda Munson, along with student Justin Merck, were all named recipients the Minot State Staff Senate Scholarship. The scholarship is given out each spring to an MSU classified employee or their immediate family member who is continuing their education in order to meet their future career goals.
Anton Huether, IT Central, was named Minot State University's January High Five Award winner.
Christina Paxman, assistant professor of broadcasting, published a whitepaper for the National Communication Association titled "e-Tools: Using Slack in the Classroom."
Heidi Peterson, Student Health Center nurse practitioner, was awarded the annual American College Health Association (ACHA) conference scholarship to assist with conference expenses at the ACHA annual meeting in Washington, D.C., this May.
MSU senior Mikhail Popov was selected as the CETL Student of the Month for January. He has contributed to the Center for Engaged Teaching and Learning's programs as a new student orientation leader.
---
Newsletter submissions
Submissions Due: March 27, 2018
University Communications, Administration, second floor
Email: michael.linnell@minotstateu.edu
Voice: 858-3298 - Fax: 858-4481
---
Minot State University mission
Minot State University is a public university dedicated to excellence in education, scholarship, and community engagement achieved through rigorous academic experiences, active learning environments, commitment to public service, and a vibrant campus life.