A NEWSLETTER FOR EMPLOYEES AND FRIENDS OF MINOT STATE UNIVERSITY
Jan. 17, 2018
Next Issue: Feb. 7, 2018
» View archived issues
---
President completes fall tour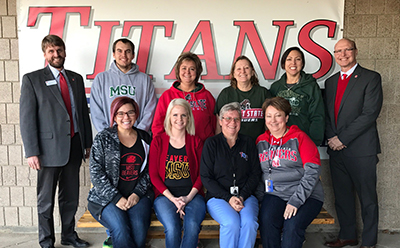 Beginning in early September, Minot State University President Dr. Steven Shirley made it a goal to connect with regional high schools.
By the middle of December, he completed his 40th school visit, making stops at nearly every school within a two-hour radius. Visits included meetings with various high school superintendents, principals, counselors, teachers, and coaches. The visits also included stops with community leaders, Minot State alumni, a trip to United Tribes Technical College and Sitting Bull College, and a youth clinic by the MSU men's basketball team while in Parshall.
The tour spanned 17 different dates and 2,700 miles in September, October, November, and December. The President's Tour visited Watford City along with United Tribes Technical College and Sitting Bull College in September. South Prairie, Minot High, Our Redeemer's Christian School, Velva, Bishop Ryan, Tioga, Ray, Williston, Surrey, Nedrose, Des Lacs, Berthold, Bottineau, Stanley, Parshall, New Town, and Westhope were visited in October. November continued with stops in TGU-Towner, Devils Lake, Rugby, Garrison, Hazen, Beulah, Underwood, Drake, Harvey, and Carrington. December concluded the fall schedule with visits to Glenburn, Newburg, Mohall, Bowbells, Kenmare, Max, Washburn, McClusky, Turtle Lake, and TGU-Granville.
Pictured — MSU President Steven Shirely (back left) and Vice President for Student Affairs Kevin Harmon (back right) pose with Minot State alumni and teachers at TGU-Granville (back row, second from the left) Tyler Mack, Tonya Hunskor, Becky Keller, Shannon Krueger, and (front row, from the left) Jennifer Anderson, Cassie Bethke, Julie Smesrud, and Lisa Olson.
---
Minot State earns Star Volunteers Award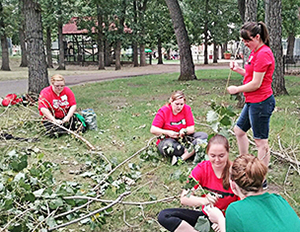 For the third straight year, Minot State University received the Star Volunteers Award from the Roosevelt Park Zoo.
The Star Volunteer Award recognizes businesses who have done more than 500 hours of volunteer service at the zoo. MSU earned the designation for 2016 having reached the plateau in 2014 and 2015. Minot State is also on track to reach that level again for 2017, which will be awarded next year. MSU, over the past three years, has averaged 575 hours of volunteer work per year.
Minot State faculty, staff, and students have volunteered at the zoo for Transitions and Welcome Weekend programming, which has assisted in the majority of these hours.  Residence Life and several academic classes have also contributed to the number of volunteer hours.  Students, staff, and faculty have participated in upgrading habitats, painting, sweeping, raking, and other projects.
---
Gov. Burgum to deliver State of the State Address at MSU
On Tuesday, Jan. 23, at 10 a.m., Gov. Doug Burgum will deliver his State of the State Address from Minot State's Ann Nicole Nelson Hall. The event is free and open to the public, and it will also be livestreamed. MSU students, faculty, and staff are encouraged to attend. Seating is limited; register as soon as possible to officially RSVP if attending. More information and a link to register are online.
---
Science students recognized at regional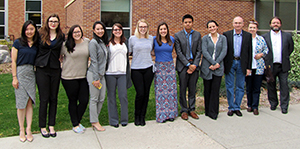 Ten Minot State University students along with professor Mikhail Bobylev attend the 12th annual Northwest Region Meeting "Undergraduate Research in the Molecular Sciences" event held at Minnesota State University Moorhead.
The event featured students presenting the results of their research projects in organic chemistry. MSU students recently completed their projects in Bobylev's lab. As a part of the event, nine students displayed poster presentations, while one made an oral presentation.
MSU student Jordan Torgunrud won the Undergraduate Research in Molecular Sciences Top award for her oral presentation, awarded by the Red River Valley Section of the American Chemical Society (ACS). The award, a $500 travel award, will help support her trip to the 255th National Meeting of the American Chemical Society in New Orleans, La., set for March 18-22, 2018.
MSU students Megan Rodgers and Shin Young Park won one-year memberships in the American Chemical Society for their poster presentations.
---
New Year, new art and new exhibit space at Northwest Arts Center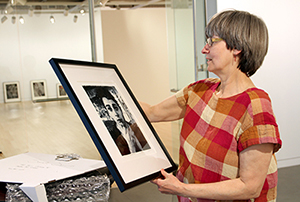 The Northwest Arts Center at Minot State University is showcasing contemporary art from across the nation along with a solo exhibit by an internationally recognized North Dakota artist to kick off the new year and a new exhibit space. 
"Americas 2018: Paperworks," the 47th annual edition of a juried art competition sponsored by the center, and "Regalia," an exhibit of mezzotint prints by Linda Whitney, Valley City, N.D., are the first exhibits to hang in the newly renovated exhibit space in the lower level of the Gordon B. Olson Library at MSU. Whitney served as juror for the Paperworks competition, and earned her solo show as Best of Show artist in last year's competition.
"Americas 2018: Paperworks" features 40 contemporary artworks "on or of" paper, representing artists from 19 states and one from Australia. Juror Whitney selected the works and designated awards from a field of 272 submitted images.
Pictured — Avis Veikley, Northwest Arts Center director, works in the new Walter Piehl Jr. Gallery in the Northwest Arts Center located in the lower level of the Gordon B. Olson Libary.
---
NDCPD awarded contract with National Council on Aging
The North Dakota Center for Persons with Disabilities (NDCPD) at Minot State University has been awarded an 18-month, $100,000 contract with the National Council on Aging (NCOA) to open and operate the North Dakota Benefits Enrollment Center (ND BEC). The ND BEC is designed to assist Medicare beneficiaries, especially those with limited incomes, in accessing additional benefits such as heating assistance, SNAP benefits, Medicare Savings Program and Medicare Part D enrollment assistance. Neil Scharpe, who for the past five years has directed the ND Navigator Project assisting consumers accessing health insurance using the federal Marketplace, will direct the ND BEC.
---
Literary Lookout on iHeartRadio this spring
iHeartRadio (KCJB 910 AM) will present Minot State University's "Literary Lookout" on the first Monday of each month starting at 11 a.m. MSU professors Ashley Brown (Feb. 5), Eric Furuseth (March 5), and Robert Kibler (April 2) will discuss what is happening in the humanities at Minot State, introduce a poem and the poet to be read, and either read the poem or have an accompanying a student who will read the poem.
---
Minot State offers two Red and Green Day open houses
Minot State University Enrollment Services will host two Red and Green Day open houses, featuring the College of Education and Health Sciences in January and the College of Business in February.
The Red and Green Day open house featuring the College of Education and Health Sciences is scheduled for Saturday, Jan. 20, from 9 a.m. to noon. The event will showcase students and faculty in a relaxed environment to answer questions within the following majors: addiction studies, athletic training, communication disorders, corporate fitness, nursing, psychology, social work, special education including intellectual/developmental disabilities and interpreting and sign language studies, and teacher education featuring early childhood education, elementary education, or physical education.
The Feb. 10 Red and Green Day open house is also from 9 a.m. to noon and features the College of Business. Faculty and students will be on hand to answer questions from these majors: accounting, applied business information technology, business education, energy economics and finance, finance, international business, management, management information systems, and marketing.
Register online for either event and receive email reminders. Walk-ins, however, are welcome on the day of each.
---
In the Galleries
"Props for Pictures," paintings by Douglas Degges, on display at the Flat Tail Press Gallery, Student Center, through March 1. See the poster for more information or contact Micah Bloom at micah.bloom@minotstateu.edu.
"Regalia," mezzotints by Linda Whitney, on display at the Walter Piehl Jr. Gallery at the Northwest Arts Center through Feb. 16.
"Americas 2018: Paperworks," a national juried exhibit featuring the work of 39 artists with guest juror Linda Whitney, on display at the Walter Piehl Jr. Gallery at the Northwest Arts Center through Feb. 21.
---
Achievements
Joseph Jastrzembski, professor of history, is a 2018 IVLP (International Visitors Leadership Program) Programmers Award finalist. The IVLP is the U.S. Department of State's premier professional exchange program. Award announcements will be made at the 2018 Global Ties U.S. National Meeting.
Hasan Buker and his student Mandy Herberholz of the Criminal Justice Department co-authored a chapter titled "Sex Offenders in Prisons" that is accepted for publication in "Lockdown Nation:  An Encyclopedia of Controversies and Trends in American Prisons," edited by Vidisha B. Worley and Robert M. Worley.
Buker and Ayhan Erbay, a doctoral student from Istanbul University, co-authored a paper titled "Is this kid a likely experimenter or a likely persister?: An Analysis of Individual-Level and Family-Level Risk Factors Predicting Multiple Offending Among a Group of Adjudicated Youth" that is accepted for publication in the upcoming issue of International Journal of Offender Therapy and Comparative Criminology. 
Dana Dannewitz, Business Office, was named Minot State University's November High Five Award winner. Dannewitz was also nominated in January and September 2017.
Heather Martin, CETL, was named Minot State University's December High Five Award winner.
Hayk Margaryan was selected as the CETL Student of the Month for November. He has contributed to the Center for Engaged Teaching and Learning's programs as a peer tutor.
Cassidy McGree was selected as the CETL Student of the Month for December. She has contributed to the Center for Engaged Teaching and Learning's programs as a peer mentor.
---
Newsletter submissions
Submissions Due: Feb. 2, 2018
University Communications, Administration, second floor
Email: michael.linnell@minotstateu.edu
Voice: 858-3298 - Fax: 858-4481
---
Minot State University mission
Minot State University is a public university dedicated to excellence in education, scholarship, and community engagement achieved through rigorous academic experiences, active learning environments, commitment to public service, and a vibrant campus life.