MSU Alumni Association to bestow awards on 5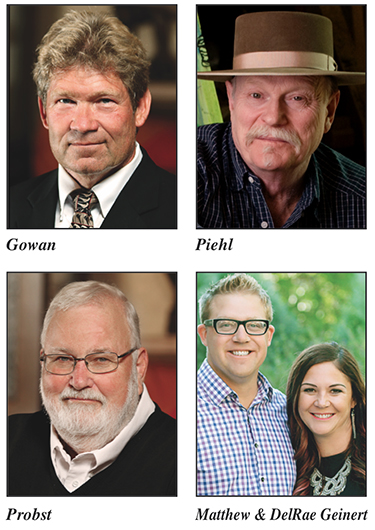 David Gowan, Walter Piehl Jr., and Tom Probst will receive the Minot State University Alumni Association's Golden Award Thursday evening (Sept. 15) in the Conference Center, 6 p.m. DelRae (Zimmerman) and Matthew Geinert will receive the Young Alumni Achievement Award.

The highest award bestowed by the MSU Alumni Association, the Golden Award selections are based on outstanding service to the university or alumni association and distinguished leadership in the recipient's career or community. The Young Alumni Achievement Award recipient is between the ages of 21 to 39.

Gowan, entrepreneur, attended Minot State University from 1975 to 1979. He completed a bachelor's degree in business management with concentrations in economics, data processing and money and banking. He also played football as a running back with all-conference recognition.

After graduating from MSU, the Des Lacs native started his own business, Gowan Rain Gutters, Inc. He has also been successfully involved in real estate since 1979.

His wife, Dolly (Kavlie), attended Minot State from 1974 to 1975 and then completed the MSU-Trinity Hospital nursing program as a registered nurse. She is employed in the Radiology-Oncology Department at Trinity Medical Center.

The couple live in Minot and have two daughters. Michelle is a licensed practical nurse in Bismarck, and Cheri is a dental hygienist in Minot.

Piehl, North Dakota visual artist and Minot State University art professor, describes his art as expressionistic Western Americana, but with a modern, contemporary influence.

"One of my instructors encouraged me to use Western Americana as subject in my artwork," Piehl said. "That piqued my interest, and I have never looked back."

Piehl was raised near Marion, N.D. After graduating from Marion High School, he left the farm to study art at Concordia College, Moorhead, Minn. He graduated in 1964 with an art major and teaching certificate. He then enrolled in graduate school at the University of North Dakota and received a Master of Arts in painting and drawing two years later.

Early in his career, Piehl taught in Dickinson, Valley City, Ellendale and Mayville. In 1969, he entered the University of Minnesota Fine Art Department to pursue an MFA. Fall semester 1970, he began teaching drawing, painting and art education methods at MSU.

Piehl has exhibited his work regionally, nationally and internationally. His paintings have been included in many collections including the Smithsonian Institution's Center for Folklife and Cultural Heritage in Washington, D.C., the Phillbrook Museum of Art and the Northwest Museum of Art, Buffalo Bill Historical Center, Cody, Wyo., and C.M. Russell Museum, Great Falls, Mont. A major retrospective of his work was organized by the Plains Art Museum in Fargo in 2003. His exhibition record and workshop presentations are extensive and exemplary. He was the featured artist in the offices of North Dakota Gov. John Hoeven and first lady Mikey Hoeven, and he received the Governor's Art Award. His artwork currently hangs in the office of Sen. Heidi Heitkamp. Prairie Public Television created two documentaries about him: "North Dakota Artist: Walter Piehl" in 1971 and "Walter Piehl: Sweetheart of the Rodeo" in 2011.

Among his many honors and awards are a North Dakota Council on the Arts Fellowship in 2005 and the 2008 Enduring Visions Award for his creativity, connection to community and impressive body of work from the Bush Foundation, a private foundation serving Minnesota, North Dakota and South Dakota. Piehl was one of three people selected for the prestigious $100,000 award and described it as the highlight of his art career.

In spite of more than 45 years in classrooms, museums and galleries, Piehl is more humble than most with his talent. Long after he is gone, Piehl said he hopes people look at his work and think, "He made some good stuff."

Piehl and Becky, his wife, have been married for 52 years. They have four children, Shadd, Levi, Crystal and Dahcota.

Probst, entrepreneur, has lived in Minot nearly all his life. After earning a bachelor's degree in business administration from Minot State University in 1967, Probst also completed the Dale Carnegie Program. Starting at age 15 at his father's Dakota Beverage Company in Minot, he had a 50-year career in the beverage-distribution business. He later launched his own operation, Premium Beverages, with the purchase of Capital Distributing Company in Bismarck and developed an area from Williston to Devils Lake and Jamestown. After selling the business, he became an investor and apartment developer.

"I started out as a janitor and ended up as president," Probst said.

Probst and Mary, his wife, share his parents' belief in education.

"You can lose everything, but education is something that can't be taken away from you," Probst related. "Statistics prove that people with a university, college or trade school education excel and earn a higher income throughout life."

Both Tom and Mary administer individual family farms in Burke County and have a long history of leadership and volunteer service. They are both past presidents of their church council. Tom has served as president of the Magic City Toastmasters and is a recipient of the Distinguished Toastmaster Award, the international organization's highest honor. He is past president of the Minot Lions Club and Jaycees, past chair of the Salvation Army board of directors and past vice chair of the Trinity Health Foundation, through which he helped develop the guest house for families of ICU patients. He is currently chair of the Minot Area Community Foundation board of directors and vice chair of the MSU Development Foundation Executive Committee. He also serves on Bread of Life Lutheran Church's council as stewardship chair.

Probst and his stepdaughters, Lynette, a Bismarck State College professor, and Denise, Gourmet Chef owner, are proud to be Minot State University graduates. The couple share two other children, Mike and Steve, and three grandchildren, Steven, Jayde and Payten. They established the Tom and Mary Probst Scholarship Endowment at MSU in 2000.

DelRae (Zimmerman) Geinert, president and one of the broker/owners of Brokers 12 Real Estate, was raised in the Richardton-Taylor area. She graduated from Minot State University with bachelor's degrees in accounting and finance in 2004.

Matthew Geinert, vice president of Future Builders, is a Minot native. He enrolled at Minot State to pursue a bachelor's degree in history education and continue his hockey career, playing four years for the Beavers. During college, he bought into Future Builders Inc, working summers for them, and he started working full time the day after he graduated from Minot State.

While Matt and DelRae both delved away from their respective degrees, they credit Minot State with providing a learning environment, resources, and most importantly, the faculty and staff to challenge them to be who they are today. They have combined their similar career knowledge and driven personalities into many business ventures. Their holding company, GG Ventures Inc., maintains control of 17 different entities, most notably in real estate holdings, construction companies and cattle enterprises.

Married since November 2012, the couple is involved with charities and the community. Matt currently serves on the City of Minot Planning Commission and Woodside Townhome Association and Bishop Ryan Alumni boards. Within the Minot Board of Realtors, DelRae has been engaged with many organizations, such as the Salvation Army, Souris Valley United Way, Minot Backpack Buddies and Minot Association of Builders. They and their two daughters, Ivy (3) and Violet (2), attend Our Lady of Grace Catholic Church.  

For questions, contact Janna McKechnie, director of alumni relations and annual giving, at 858-3373 or janna.mckechnie@minotstateu.edu.