A NEWSLETTER FOR EMPLOYEES AND FRIENDS OF MINOT STATE UNIVERSITY
Jan. 20, 2016
Next Issue: Feb. 3, 2016
» View archived issues
---
MSU announces two Bakken U scholarship awardees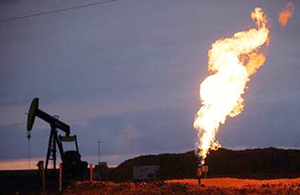 Two Minot State University students, John Newcomb and Jennifer Hutchins, will receive Bakken U scholarships for spring semester.

The Bakken U scholarships were made available to recently displaced oil workers, current oil workers, or spouses of oil workers who wish to expand their knowledge and job marketability in North Dakota. The recipients were selected based on a review from a scholarship committee.

Newcomb is employed as a line technician by Minot Aero Center. He is currently a sophomore at MSU and eventually wants to become a petroleum engineer.

"I am very grateful to receive this scholarship as it will help me in my quest to become a petroleum engineer," Newcomb said. "This scholarship will help pay for my university education and minimize my debt load. I am very interested in the production and refining of oil and gas as it is important to our country's economy."

Hutchins, a spouse of an oilfield worker, is an administrative secretary in the university's Student Health Center. A freshman, she is pursuing a nursing degree.

"I am very honored to be one of the first recipients of a Bakken U scholarship," Hutchins said. "This scholarship will assist me in achieving my career goals in nursing in ways that were not possible previously. With so many deserving applicants in our area, I feel privileged to be chosen and appreciate Bakken U for this incredible opportunity!"

"Minot State is pleased to participate in the Bakken U program by offering scholarship dollars to assist these students in making their educational and career goals a reality," MSU President Steven W. Shirley said.

Bakken U: Energizing through education, a new initiative spearheaded by Chancellor Mark Hagerott and the North Dakota University System, was created last summer to assist in meeting the needs of energy workers and their families and employers in western North Dakota. To learn more about Bakken U, visit http://bakkenu.ndus.edu/.

For questions about the Bakken U scholarships at MSU, contact Kevin Harmon, vice president for student affairs, at kevin.harmon@minotstateu.edu.
---
History professors receive grant to preserve Minot's common heritage
The National Endowment of the Humanities recently awarded Professors Bethany Andreasen and Dan Ringrose of the Minot State University History Department a grant to preserve Minot's common heritage. History students and faculty will host digitization days at the Minot Public Library and area assisted living centers, where members of the public will be invited to share photographs, artifacts, family letters and artworks related to family and community history.
Items will be digitized, along with descriptive information and context provided by the community attendees. Contributors will receive a free digital copy of their items as well as advice on preservation and tips for handling flood-damaged materials.
With the owner's permission, the digitized materials will be made publicly available through the Digital Minot Project (http://www.minotstateu.edu/history/digital-minot.shtml). Sessions will be followed by electronic exhibits at the Digital Minot Project, as well as by a public presentation on community history in the fall.
Andreasen and Ringrose's grant proposal identified the motivation for the project as the desire to document the community's identity at a time when Minot is rapidly transforming from a disastrous flood and significant population and industrial growth related to the explosion of oil activity in the region.
Andreasen has worked in local history projects for several years, supervising history students in internships as part of the Digital Minot Project.
"I appreciate the opportunity to guide history majors in interacting with the public at these digitization days, and in the research that follows, as it provides them with practical, hands-on experience in the field of history," Andreasen said.
Ringrose's work in digital history includes supporting the technology behind Digital Minot, the Veterans History Project and an online archival project digitizing letters from 19th century France.
"This grant supports an exciting partnership with Janet Anderson, Minot Public Library director, to preserve memories and documents from individuals across our community," Ringrose said.
This grant is among the first of 38 national awards made under NEH's Common Heritage grant program. Created in April 2015, this program is part of "The Common Good: The Humanities in the Public Square," an agency-wide initiative that seeks to enhance the role of the humanities in civic life (http://www.neh.gov/commongood).
The digitization day at the Minot Public Library will take place in early March. For more information about the project, visit the project webpage at www.minotstateu.edu/history/commonheritage.shtml, or contact Andreasen at bethany.andreasen@minotstateu.edu or Ringrose at daniel.ringrose@minotstateu.edu.
---
Linda Olson traces history of Chinese ceramics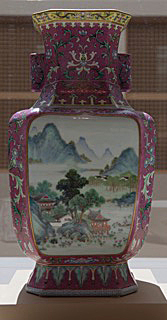 Linda Olson, art professor, will trace the development of Chinese ceramics Monday (Jan. 25) in a Northwest Art Center lecture. The presentation will begin at 7 p.m. in Aleshire Theater.

Olson's talk, "The Chinese Ceramic Continuum," will follow Chinese ceramic developments from Neolithic slip-decorated ware through the refined porcelains of the Ming Dynasty, with a look at Emperor Qin Shi Huang's Terracotta Army, and an exploration of societal developments that influenced the ceramic continuum.     

"China's ceramic roots are strong and deep," Olson relates. "Chinese artisans developed and mastered techniques and artistry that set the standard of excellence in ceramics throughout the world."

In summer 2016, Olson plans to lead a ceramics-themed study tour of students and community members to China. They will visit ancient kiln sites, museums and important cultural sites including the Porcelain Road and Terracotta Army of Emperor Qin Shi Huang.

Olson currently teaches ceramics at Minot State University, where she has taught since 1990. She is also the director of the North Dakota Art Gallery Association.

The Drake native holds art degrees from Minot State, the University of Montana and University of North Dakota. She is well known for her rock art documentation, and several of her illustrations have been included in publications. 

A question-and-answer session and informal reception will follow the program. The lecture is free and open to the public. This project is supported in part by a grant from the North Dakota Council on the Arts, which receives funding from the state legislature and the National Endowment for the Arts. For questions, contact Avis Veikley, Northwest Art Center director, at avis.veikley@minotstateu.edu.
---
MSO acknowledges 'Heroes among Us'



Minot Symphony Orchestra continues its 90th season, "From the New World," Jan. 30 in Minot State University's Ann Nicole Nelson Hall with a family concert titled "Heroes among Us."

The audience will hear some of the most renowned hero-inspired pieces in the orchestral repertoire. Katie Knudsvig, the MSO High School Soloist Competition winner, will be the featured soloist.

The concert begins at 7:30 p.m. with a preconcert lecture, "The Journey from 2D to 3D," by Erik Anderson, music professor, at 6:30 p.m.

Minot State University students, faculty and staff are admitted free with a current ID. Ticket prices for adults are $25 main floor and $30 balcony; senior citizen is $20 main floor and $25 balcony; students 12-18, $15; children, $10. For more information about MSO, visit www.minotstateu.edu/symphony/.
---
Northern Lights International Film Series resumes with 'People of a Feather'



"People of a Feather," a 2011 Canadian film, launches the Northern Lights International Film Series into spring semester Feb. 1 in Aleshire Theater at 6:30 p.m. Joel Heath's masterpiece highlights the Inuit on the Belcher Islands in Canada's Hudson Bay and their unique relationship with the eider duck. Eider down, the warmest feather in the world, allows both Inuit and bird to survive harsh Arctic winters. Traditional life is challenged with modern problems as both Inuit and eiders confront changing sea ice and ocean currents disrupted by the massive hydroelectric dams powering New York and eastern North America. The film is a call to action to implement energy solutions that work with nature.

Scott Sigel, assistant professor of foreign language, will lead discussion after the screening. The event is free and open to the public. There will be a door prize drawing for a gift card to the series sponsor, Broadway Bean and Bagel. For questions, contact Sigel at scott.sigel@minotstateu.edu.
---
Community Rocks! 2016 to benefit youth music program
With proceeds benefitting the Minot String Academy, the second annual Community Rocks! concert will be Feb. 6 at the Grand Hotel in Minot. Local orchestra musicians will present three sets of rock favorites by acts such as the Rolling Stones, Aerosmith, Styx, Heart, Metallica, Cold Play and many others. Erik M. Anderson, a junior in Minot State University's music program, arranged many of the songs for the orchestra, and several songs will feature Melissa Spelchen, criminal justice assistant professor and interim Honors director, on vocals.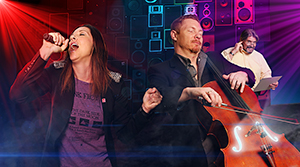 The evening begins at 6 p.m. with a social, hors d'oeuvres and silent auction, followed by the first music set at 7 p.m. Cash bars will be available throughout the event. Open seating is available in two areas: reserved seats (all center rows) are $60, while general admission seats are $45. Tickets are available at Budget Music and Video in downtown Minot and at Jacobsen Music on 31st Ave. S.W., Minot. The event is open to all ages.
Funds from Community Rocks! 2016 will provide the instruments, supplies and instruction necessary to begin the Minot String Academy. The academy will be dedicated to providing one-on-one lessons and string orchestra experiences to low-income children, beginning in the first grade. This early start will provide social and academic benefits, as well as create future leaders of the Minot Public Schools orchestra program.
Co-founded by Minot State professors Erik Anderson and Andy Bertsch, Community Rocks! exemplifies local initiative and talent coming together to benefit the community. The orchestra, which plays favorites from the '60s to the present, consists of local string, brass, and wind players, plus trap set and electric bass.
For questions, contact Erik Anderson at erik.anderson@minotstateu.edu or 858-3576.
Pictured, left to right, are Melissa Spelchen, Erik Anderson and Andy Bertsch.
---
New faculty and staff aboard

Minot State University welcomes new employee, Kimberly Mathwich, who is a research associate at the North Dakota Center for Persons with Disabilities. Previously, Mathwich worked at Brookdale Brentmoor in Minot. She holds a bachelor's degree in social work from the University of Mary. She enjoys reading and spending time at the lake. She and her husband, Mark, have three children. 
---
In the galleries
Jan 20-Feb. 19 — "Americas 2016: Paperworks," a national juried exhibition with guest juror Karen Kunc of Lincoln, Neb., Hartnett Gallery.
Jan. 25-March 1 — "Americas 2015: Paperworks" Best of Show, prints by Mark Sisson of Stillwater, Okla., Library Gallery. 
---
Faculty and staff achievements
The Office of Public Information proudly shares the many accomplishments of faculty and staff with the campus community in every issue.
Efraín Amaya, Minot Symphony Orchestra music director and music assistant professor, conducted the world premiere of his original composition, "Constellations," a one-act chamber opera, in Philadelphia's The Neighborhood House Theater on Dec. 4-5. Amaya composed the music to a story and libretto written by Susana Amundaraín, adjunct art faculty.
Music Professors Erik Anderson and Jon Rumney toured the state Jan. 8-10 as strings adjudicators for North Dakota high school students auditioning for the Allstate Orchestra.
On Dec. 15-16, faculty members DeVera and Ken Bowles, Jim Fusik and Jennifer and Mark McQuade provided coaching sessions to more than 50 high school students preparing for Allstate choir and band auditions.
James Ondracek, professor of business administration, presented two papers, titled "Analyzing Leadership Decisions:  Stan O'Neal and Merrill Lynch" and "Don't Mess with Coca-Cola: Introducing New Coke Reveals Flaws in Decision-Making within the Coca-Cola Company," Dec. 21-22 at the Business and Social Science Research Conference in Paris. 
---
Newsletter submissions
Submissions Due: Jan. 27, 2016
University Communications, Administration, second floor
Email: michael.linnell@minotstateu.edu
Voice: 858-3298 - Fax: 858-4481
---
Minot State University mission
Minot State University is a public university dedicated to excellence in education, scholarship, and community engagement achieved through rigorous academic experiences, active learning environments, commitment to public service, and a vibrant campus life.