---
Congratulations graduates!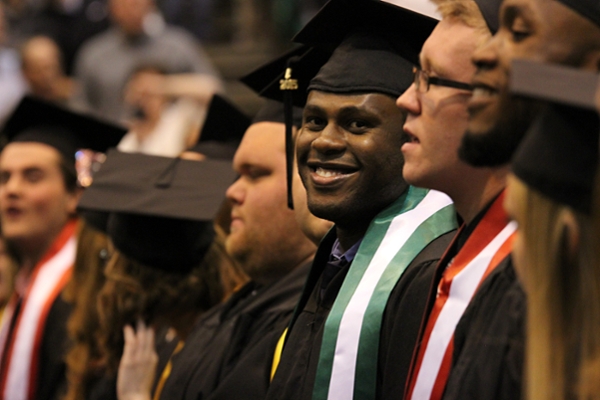 Minot State University is proud of the Class of 2015, the first graduating class of its second century. More than 775 undergraduate and graduate students were eligible to walk through MSU's commencement exercises May 15.
---
Veterans honored with search-and-discover-fallen-heroes mission
The MSU Veterans Center will honor veterans Friday (May 22) with a search-and-discover-fallen-heroes mission on the Minot State University campus and in First Lutheran Church Cemetery at 10 a.m. The MSU Veterans Center, Minot American Legion Post 26 and the Minot American Legion Auxiliary Unit 26 developed questions on service members interned in three Minot cemeteries, First Lutheran Church Cemetery, Rosehill Cemetery and Sunset Memorial Garden.
"If people would like to pay tribute to our area veterans this Memorial Day weekend, here is an opportunity for families and individuals to learn more about those who served in the U.S. Armed Forces to help preserve the freedoms we enjoy today," said Andy Heitkamp, MSU Veterans Center director.   
The MSU event will be followed by a brief program. Interested participants should meet near the flag poles in front of the Student Center shortly before 10 a.m.
The second search-and-discover-fallen-heroes mission is Memorial Day (May 25) at 8 a.m. at the Eighth Street Bridge, following a presentation by American Legion Post 26.
The third opportunity will follow a presentation at Rosehill Cemetery on Memorial Day (May 25) at 10:30 a.m.
Those unable to attend one of the events may conduct their own search-and-discover mission by going to the MSU Veterans Center webpage, http://www.minotstateu.edu/veterans, or to the American Legion Post 26 webpage, http://nd.minotlegion.org. Click the "Search and Discover Mission" link. Instructions on how to conduct a search-and-discover mission along with answers to the questions will be listed. For more information, contact Heitkamp at andy.heitkamp@minotstateu.edu.
---
Dakota Chamber Music returns June 8-14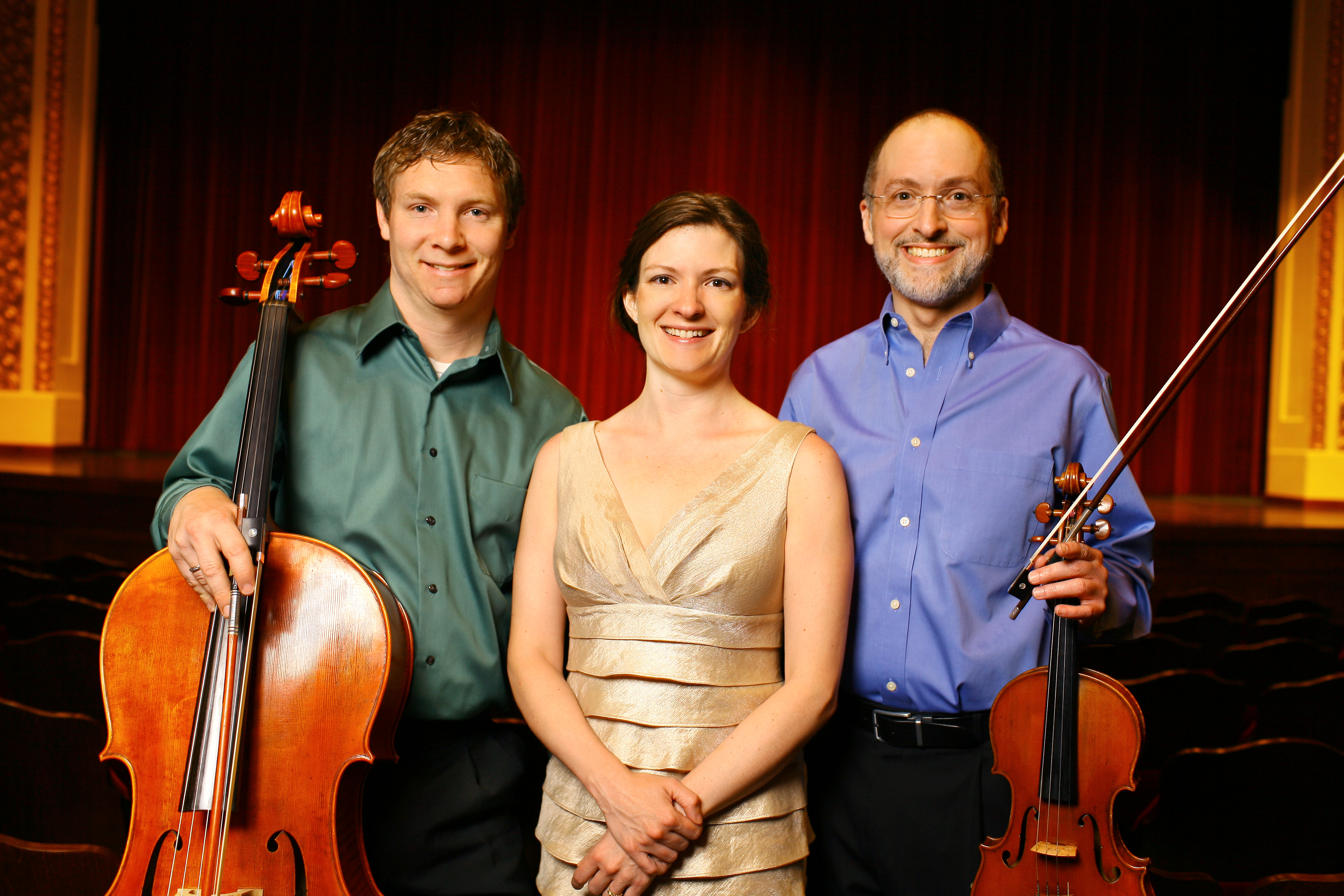 The Dakota Chamber Music will celebrate its 19th season June 8-14. The institute brings professional artists together with talented and motivated students and adults for intensive performance and study. Minot State University's resident trio, Luminus, forms the core of the 2015 DCM faculty. Erik Anderson, cello, Dianna Anderson, piano, and Jon Rumney, violin, comprise the trio.
"When Jon and Lynne Rumney founded DCM, the intent was to provide an opportunity of the highest quality for musicians of all ages to gather for a week of intense study and musical fellowship," said Erik Anderson, professor of music. "Each year, it is a thrill to see that dream come alive once again in our halls and on our stage."
Generally, chamber music includes any music performed by a small number of performers with one performer to a part. The word "chamber" signifies that the music can be performed in a small room, often in a private salon with an intimate atmosphere.
Guest musicians include Adam Estes, University of Mississippi assistant professor of woodwinds and founding member of Assembly Quartet; Jim Fusik, MSU assistant professor of woodwinds; Sean Neukom, violin, an MSU alumnus now working professionally in Pittsburgh; Tim Nelson, viola, a Juilliard graduate who teaches music in Fargo; and Andrew Smith, University of Nevada-Las Vegas associate professor of music, who is a cellist of UNLV's The Cerberus Trio and principal cellist of the Las Vegas Philharmonic.
Each year, DCM draws 40-50 musicians, high school through adult, who play strings, piano, winds and brass. It is by audition only and is coordinated by the MSU Division of Music. Attendees rehearse for four hours daily with the faculty and participate in master classes and other group presentations. Public events include the Faculty Concert on June 11 in Ann Nicole Nelson Hall at 7:30 p.m., a Student Concert in the Gordon B. Olson Library on June 12 at 11 a.m., the College and Adult Workshop Concert on June 13 in Nelson Hall at 7:30 p.m. and the DCM Adult Retreat/High School Program Concert on June 14 in Nelson Hall at 1 p.m. The latter three are free; the Faculty Concert is $10 for adults and $5 for students, with tickets available at the door. For questions, contact Erik Anderson at 858-3576 or erik.anderson@minotstateu.edu.
---
Summer Theatre commemorates 50 years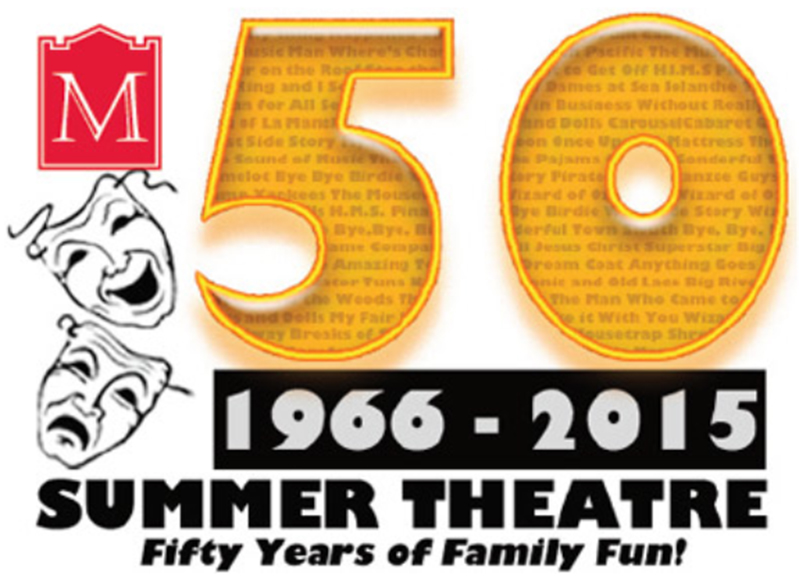 Minot State University's Summer Theatre will celebrate its 50th season by producing five favorite shows. Two of the shows, "Nunsense" and "Greater Tuna," will be performed by their original Summer Theatre casts.
"Nunsense" will run June 9-13, "Annie" June 17-21, "Greater Tuna" June 26-30, "Little Shop of Horrors" July 7-11 and "The Music Man" July 21-25.
Sandra Nelson, Kari Files, Aili Smith, Kena Davidson and Nadine Nelson, original actors from the 2000 production of "Nunsense," will reprise their roles this summer. Conrad Davidson, College of Arts and Sciences dean, will also return as director. Alumni Jeff Arlt and John Weninger will repeat their roles in "Greater Tuna." Kevin Neuharth, alumnus and Summer Theatre director, will direct "Greater Tuna." MSU students, faculty and staff and community members will be involved during the season as well.
Possessing a rich and extensive history, Summer Theatre started out as a tent theater and a dream of founders and former faculty members Harold Aleshire and Tom Turner. In 1971, it found its permanent home on a grass-lined hillside north of campus with the MSU Amphitheater. Projects throughout the five decades have improved the outdoor theater.
"Like every season, I'm really excited about getting started, but this season is special," Neuharth said. "I'm looking forward to enjoying good weather, working with old friends and sharing a great season."
All shows begin at 8:30 p.m. with the box office opening at 7:30 p.m. Tickets are $10 for adults, $8 for senior citizens and children over 12, $5 for children 12 and under, and $3 for MSU personnel and summer students with current MSU ID. There are also special rates for active military and their immediate dependant family members.  For reservations, call 858-3228. For more information, contact Neuharth at kevin.neuharth@minotstateu.edu or visit www.minotstateu.edu/theatre/summer.shtml.
---
MSU hosts Friend-raising Golf Tour in area communities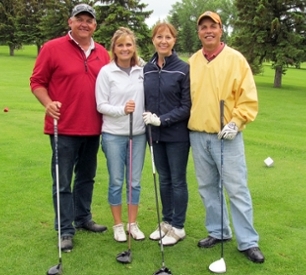 Minot State University alumni and friends are invited to participate in the 10th annual Friend-raising Golf Tour. The summer tour will stop in six cities: Velva on June 9, Rugby on June 18, Stanley on June 23, Bottineau on July 7, Garrison on July 14 and Kenmare on July 30. MSU will recognize area students receiving 2015-16 scholarships at each event. These dates are subject to change.
 "Minot State receives amazing support from the surrounding area in everything its students do," said Janna McKechnie, director of alumni relations and annual giving. "The Friend-raising Golf Tour enables Minot State's people to be out in the communities to thank them."
The motto for the tour is "Golf One or Golf Them All." The format for each tour stop is a four-person, 9-hole scramble. Registration begins at 4:30 p.m., with a shotgun start at 5 p.m. A social will immediately follow completion of golf. Non-golfers are welcome to attend.
Golfers are responsible for their own green fees and cart rentals. Meals and refreshments will be provided by the course, and purchase is optional. It is recommended that golfers interested in carts make early reservations because of limited availability.
Prizes and T-shirts will be awarded at each event. The Friend-raising Golf Tour is sponsored by MSU Alumni Association, Advancement Office, Athletic Department and the Marketing Office. Call the MSU Advancement Office with questions or to register at 858-3234 or 701-800-777-0750, ext. 3234, or visit the website, www.minotstateu.edu/alumni.
---
E-waste pickup time frame set for Aug. 1
Minot State University will again participate in the free Apple Recycling promotion. The tentative pickup week will be Aug. 1. If departments have unusable electronic equipment, such as computers, monitors and televisions, Information Technology Central and facilities management staff will pick up those items. All e-waste items must be MSU-owned and have a completed Change of Inventory form. No personal e-waste is allowed under this free program. A tentative deadline has been set for the last week of July to allow time to palletize and shrink wrap any remaining items.
Previously, MSU has recycled over 100,000 pounds of used electronic equipment. Please participate. Contact the Help Desk at 858-4444 or submit a work-order request to helpdesk@minotstateu.edu.
---
Retirees honored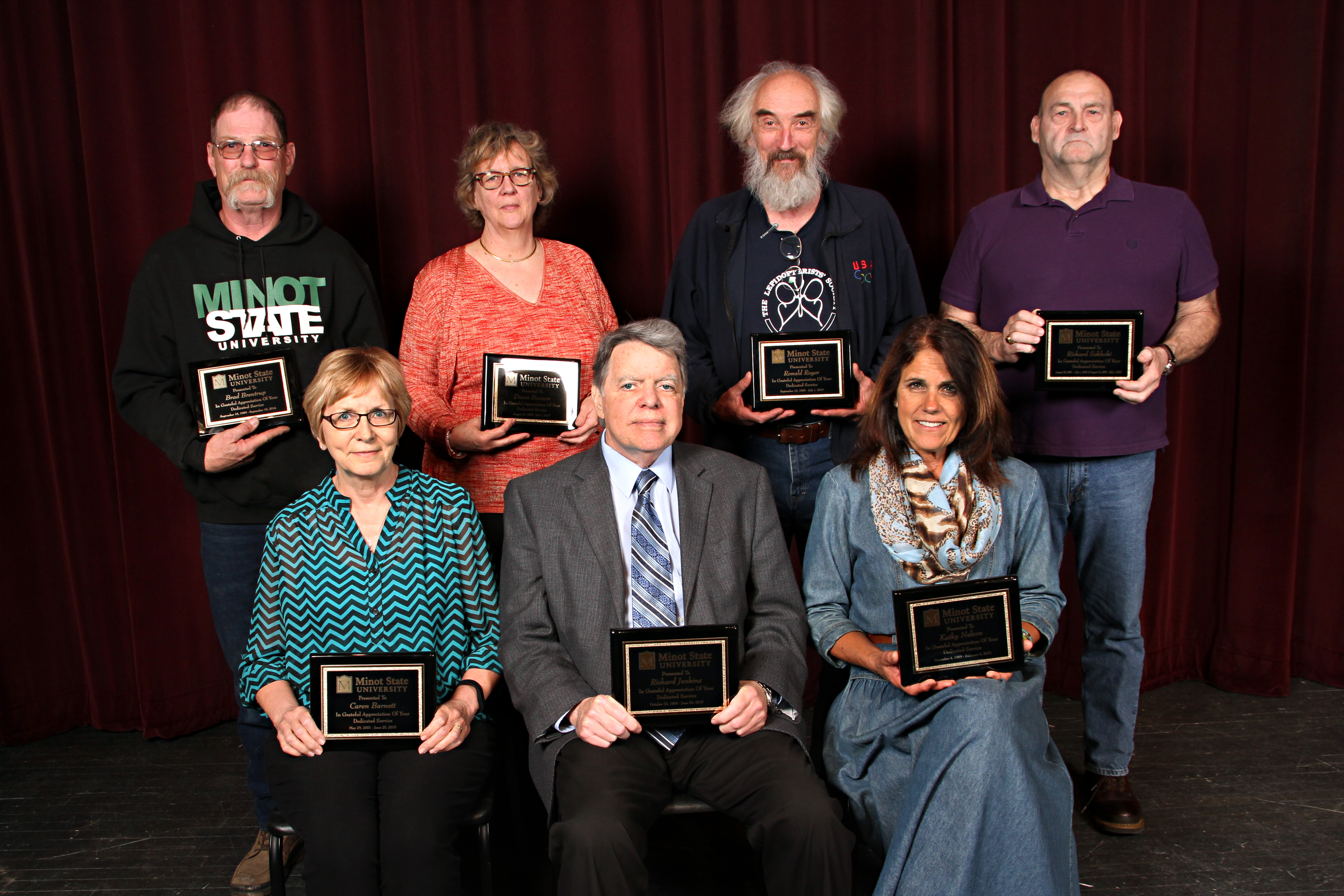 Minot State University employees, who recently retired or will retire at the end of this fiscal year were honored May 13 at the Employee Recognition and Retirement Event. This year's retirees include Caren Barnett, Student Health Center; Brad Brentrup, facilities management; Carmen Fricke, mathematics and computer science; Larry Goodman, mathematics and computer science; Diann Hanson, business administration; Dick Jenkins, vice president for student affairs; Kathy Nelson, financial aid; Neil Nordquist, College of Education and Health Sciences; Ronald Royer, science; Richard Seklecki, criminal justice; and Michael Wilz, Gordon B. Olson Library. To read about faculty and staff achievements celebrated at the event, go to http://www.minotstateu.edu/hr/pages/awards/2015.shtml.

Pictured are front row, left to right: Caren Barnett, Dick Jenkins, Kathy Nelson. Back row, left to right: Brad Brentrup, Diann Hanson, Ronald Royer, Richard Seklecki. Not pictured: Carmen Fricke, Larry Goodman, Neil Nordquist, Michael Wilz.
---
New faculty and staff aboard
Minot State University welcomes new employee, Jon Whalen, a custodian in Dakota Hall. Whalen previously worked at Minot's Taco John's. He enjoys watching sports, especially hockey, and working with bountiful baskets. He and his wife, Magen, have two daughters and a son.
---
In the galleries
June 1-26 — "eems-Say inda-Kay amiliar-Fay," joint senior capstone exhibition by Danielle Bolinske and Tara Thiel, Gordon B. Olson Library Gallery. A public opening reception for "eems-Say inda-Kay amiliar-Fay" will be June 4 in the Library Gallery, 6:30-8 p.m. 
---
Faculty and staff achievements
The Office of Public Information proudly shares the many accomplishments of faculty and staff with the campus community in every issue.


Sarah Aleshire, instructor of English, presented a paper titled "What Remains When the Cameras Go: The Televisual Uncanny" at the national Pop Culture Association/American Culture Association conference in New Orleans, March 29-April 2.
Forrest Macy
, admissions counselor, was elected president of MSU Staff Senate on May 19. 
---
Minot State University mission
Minot State University is a public university dedicated to excellence in education, scholarship, and community engagement achieved through rigorous academic experiences, active learning environments, commitment to public service, and a vibrant campus life.